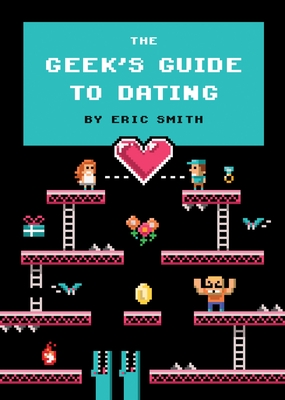 The Geek's Guide to Dating (Hardcover)
Quirk Books, 9781594746437, 208pp.
Publication Date: December 3, 2013
Other Editions of This Title:
MP3 CD (12/3/2013)
MP3 CD (11/11/2014)
Compact Disc (12/3/2013)
MP3 CD (12/3/2013)
Compact Disc (12/3/2013)
* Individual store prices may vary.
Description
You keep your action figures in their original packaging. Your closets are full of officially licensed Star Wars merchandise. You're hooked on Elder Scrolls and Metal Gear but now you've discovered an even bigger obsession: the new girl who just moved in down the hall.

What's a geek to do? Take some tips from The Geek's Guide to Dating. This hilarious primer is jam-packed with cheat codes, walkthroughs, and power-ups for navigating the perils and pitfalls of your love life with ease. Geeks of all ages will find answers to the ultimate questions of life, the universe, and everything romantic, from First Contact to The Fellowship of the Ring and beyond. Full of whimsical 8-bit illustrations, The Geek's Guide to Dating will teach fanboys everywhere to love long and prosper.
About the Author
Eric Smith is the cofounder of Geekadelphia, a popular blog covering all-that-is-geek in the City of Brotherly Love, as well as the Philadelphia Geek Awards, an annual awards show held at the Academy of Natural Sciences. He's written for the Philadelphia Inquirer, Philadelphia Weekly, and Philly.com.
Praise For The Geek's Guide to Dating…
"...sincere in helping dweebs discover that love is really the final frontier."—Den of Geeks
 
"...a solid manual." —Official Xbox Magazine
 
"The Geek's Guide to Dating could be the answer to a single geek's prayers."—Suvudu
 
"Eric Smith's The Geek's Guide to Dating sets out to aid geeky guys everywhere with humorous instructions on finding the Princess Peach to their Mario."—Pop Sugar

"...this is a welcome alternative to the 'pick-up artist' phenomenon courting this same demographic."—Publishers Weekly

"[The Geek's Guide to Dating] offers serious advice for getting a girl and knowing how to keep her…a perfect stocking stuffer!"—Anna Jedrziewski, Retailing Insight
 
"If dating seems more like a dismal game of Frogger instead of a fun Zelda adventure, you need to read "The Geek's Guide to Dating" by Eric Smith! Learn how to meet people in the real world and connect off-line for a change. You may even level up to a romance worthy of an RPG!"—Bonnie Burton, author of The Star Wars Craft Book & host of Geek DIY

"For the right person, this book is the Marauder's Map, the Konami code, the Gray's Sports Almanac of the opposite sex. It's dangerous to date alone: take this."–Jeff Ryan, author of Super Mario: How Nintendo Conquered America

"The Geek's Guide to Dating is a must-have for anyone who feels like they're foundering in a dating galaxy far, far away."—Carrie Tucker, author of I Love Geeks: The Official Handbook

"Single geeks, plunk down your quarters for this book!"—Tara Bennett, co-author of Fringe: September's Notebook and LOST Encyclopedia