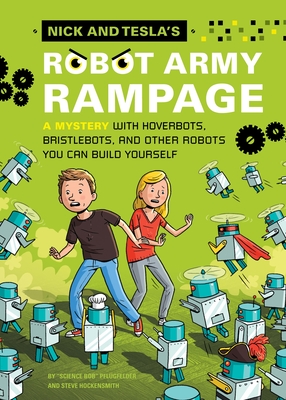 Nick and Tesla's Robot Army Rampage (Hardcover)
A Mystery with Hoverbots, Bristle Bots, and Other Robots You Can Build Yourself
Quirk Books, 9781594746499, 224pp.
Publication Date: February 4, 2014
Other Editions of This Title:
MP3 CD (2/4/2014)
Compact Disc (2/3/2015)
Compact Disc (2/4/2014)
MP3 CD (9/1/2014)
MP3 CD (2/4/2014)
Compact Disc (2/4/2014)
* Individual store prices may vary.
Description
Nick and Tesla return in an all-new, robot-filled adventure!

When a rash of robberies hits the town of Half Moon Bay, 11-year-old sleuths Nick and Tesla are determined to catch the criminals—but to do so, they'll have to build a host of new gadgets and gizmos! In this robot-themed follow-up to Nick and Tesla's High-Voltage Danger Lab, the brother-and-sister duo build four different droids out of ordinary household objects—and illustrated instructions are included throughout the story, so you can build them, too! Make bristlebots that buzz, hoverbots that float above the ground, battlebots that duke it out, and more! Can Nick and Tesla catch the criminal mastermind—and foil his army of rampaging robots—before it's too late?
About the Author
"Science Bob" Pflugfelder is an elementary school teacher based in Newton, Massachusetts. He has made many television appearances on Jimmy Kimmel Live, The Dr. Oz Show, Live with Kelly & Michael, and other media outlets. These are his first books. Steve Hockensmith is the author of a New York Times best seller and an Edgar Award nominee. He lives in Alameda, California.
Praise For Nick and Tesla's Robot Army Rampage: A Mystery with Hoverbots, Bristle Bots, and Other Robots You Can Build Yourself…
"How do you connect students interested in STEM (science, technology, engineering, mathematics) with fiction reading? Look for science adventures. Get started with the NICK AND TESLA series. Each book contains an engaging adventure revolving around a "build-it-yourself" science project."—Teacher Librarian

"Another fast-paced mystery and treat for technophiles."—Kirkus Reviews

Praise for Nick and Tesla's High-Voltage Danger Lab
 
"Nick and Tesla's High-Voltage Danger Lab has the perfect formula:  Mega-watts of funny writing plus giga-hertz of hands-on science equals fun to the billionth power!"—Chris Grabenstein, New York Times best selling author of Escape from Mr. Lemoncello's Library
 
"Real project blueprints are included along with this tale of 11-year-old siblings who create outrageous contraptions and top-secret gadgets."—Los Angeles Times
 
"...the combination of exciting elements and innovative DIY projects in action yields a guaranteed pager turner."—ScienceBuddies.org
 
"[Nick and Tesla's High-Voltage Danger Lab is] a great way to show kids that problems can often be solved by applying a bit of creative energy with some tech know-how. And Nick and Tesla (and Uncle Newt) are the perfect companions for your young reader looking for some (safe) adventures."—Geek Dad
 
"A mystery, adventure, and activity book all rolled into one entertaining story....Plenty of excitement, with science."—Common Sense Media
 
"Part mystery, part mad science...the story will leave readers wondering what mayhem will be forthcoming."—School Library Journal
 
"...a strong start..."—Publishers Weekly
 
"How do you connect students interested in STEM (science, technology, engineering, mathematics) with fiction reading? Look for science adventures. Get started with the NICK AND TESLA series. Each book contains an engaging adventure revolving around a "build-it-yourself" science project."—Teacher Librarian
 
"Engaging characters and brisk plotting make this a fun and educational read."—Jennifer Ouellette, author of The Calculus Diaries and The Physics of the Buffyverse
 
"A promising first offer in a series that offers plenty of appeal for middle-grade and middle school readers.­"—Kirkus
  
"Suspenseful, funny, and loaded with do-it-yourself robots, rockets, and burglar alarms. Nick and Tesla are an unforgettable new detective team, sure to inspire an entirely new generation of scientists and readers. Can't wait for the next book!"—Amy Herrick, author of The Time Fetch
 
"A book with action, adventure, mystery, humor -- and instructions on how to build rockets and robots.  What more could young readers possibly want?  'Nick & Tesla' is a great book that will keep your kids enthralled with its intriguing story -- and inspire them with its clever science experiments.  I can't wait for the further adventures of these fascinating characters."—Stuart Gibbs, Edgar-nominated author of Spy School and Belly Up
 
"I love the book! It combines science, intrigue and great fiction together in a wild ride for the reader. Nothing tickles me more than seeing a story really charged up with science. And the projects are so much fun! More please!"—Lynn Brunelle, four-time Emmy Award–winning writer for "Bill Nye the Science Guy" and the author of Pop Bottle Science
 
"What kid wouldn't want to join Nick and Tesla and their wacky family? This is a great way for budding scientists to have fun while exploring the intricacies of physics, chemistry, and more--up close, personal, and hands-on!"—Jane Hammerslough, author of Owl Puke: The Book and Dino Poop: And Other Remarkable Remains of the Past
 
"Pflugfelder and Hockensmith debut a captivating series about crime-solving kid inventors in the spirit of Tom Swift and Alvin Fernald. But Nick and Tesla give us what their literary predecessors always omitted: blueprints for whiz-bang inventions that kids can actually build themselves (with some adult assistance). Electromagnets, tracking devices, rockets and the like. Hands-on science has never been so cool."—Joseph D'Agnese, author of Blockhead: The Life of Fibonacci