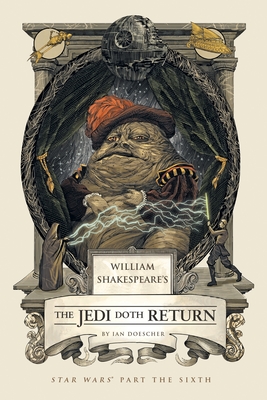 William Shakespeare's The Jedi Doth Return
Star Wars Part the Sixth (William Shakespeare's Star Wars #6)
Hardcover

* Individual store prices may vary.
Description
The New York Times Best Seller

Experience the Star Wars saga reimagined as an Elizabethan drama penned by William Shakespeare himself, complete with authentic meter and verse, and theatrical monologues and dialogue by everyone from C3PO to Admiral Ackbar.

Prithee, attend the tale so far: Han Solo entombed in carbonite, the princess taken captive, the Rebel Alliance besieged, and Jabba the Hutt engorged. Alack! Now Luke Skywalker and his Rebel band must seek fresh allies in their quest to thwart construction of a new Imperial Death Star. But whom can they trust to fight by their side in the great battle to come? Cry "Ewok" and let slip the dogs of war!

Authentic meter, stage directions, reimagined movie scenes and dialogue, and hidden Easter eggs throughout will entertain and impress fans of Star Wars and Shakespeare alike. Every scene and character from the film appears in the play, along with twenty woodcut-style illustrations that depict an Elizabethan version of the Star Wars galaxy. Frozen heroes! Furry creatures! Family secrets revealed! And a lightsaber duel to decide the fate of the Empire. In troth, William Shakespeare's The Jedi Doth Return has it all!
Praise For William Shakespeare's The Jedi Doth Return: Star Wars Part the Sixth (William Shakespeare's Star Wars #6)…
"If you love Star Wars and Shakespeare, this book is the pinnacle of perfection."—Yoda News

"A masterful mashup of English lit and pop culture that's hilarious, dramatic and downright mesmerizing."—American Profile

"For those who enjoyed Doescher's first two retellings, rejoice, for the merriment plays on."—The Free Lance-Star

Praise for the William Shakespeare's Star Wars® Series:

"Reverent, clever and a novel way for fans to re-immerse themselves in their beloved franchise."—New York Times, on the series

"A quirky addition to the genre-busting canon."—Entertainment Weekly, on William Shakespeare's Star Wars

"A great gift for every geek you know, no matter what their passion."—Huffington Post, on William Shakespeare's Star Wars

"Enormous fun."—A.V. Club, on William Shakespeare's The Empire Striketh Back

"The writing's quite good; elaborate Elizabethan woodcuts. . .are just icing on the cake."—The Wall Street Journal, on William Shakespeare's The Tragedy of the Sith's Revenge

"At last, the mother of all mashups is upon us."—CNET.com, on William Shakespeare's Star Wars

"With movie Easter eggs aplenty, Bard babes and Star Wars lovers will be equally enthused."—Brit + Co, on William Shakespeare's The Force Doth Awaken

"Each page proves that the English language is a playground, and Ian Doescher uses every opportunity to the fullest."—Sweety High, on William Shakespeare's Jedi the Last

"The book is so brilliant you'll wonder why someone didn't think of it sooner."—Paste Magazine, on William Shakespeare's Star Wars

"As Shakespeare would say, you might think, this be madness, yet there is a method in 't."—Newsday, on William Shakespeare's Star Wars
Quirk Books, 9781594747137, 168pp.
Publication Date: July 1, 2014
About the Author
Ian Doescher is the New York Times best-selling author of the William Shakespeare's Star Wars® series, the Pop Shakespeare series, and MacTrump. He has written for Marvel Comics and is a contributing author to the story collection Star Wars: From a Certain Point of View. He lives in Portland, Oregon, with his family. Visit him at IanDoescher.com.