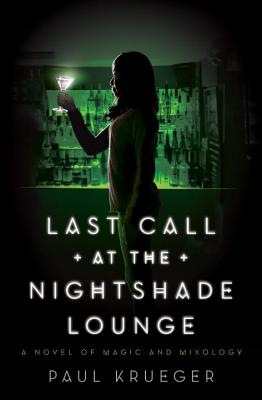 Last Call at the Nightshade Lounge
A Novel
Paperback

* Individual store prices may vary.
Description
In this sharp and funny urban fantasy novel, booze is magic, demons are real, and millennial Bailey Chen joins a band of monster-fighting Chicago bartenders instead of finding a "real" post-college job.
 
Bailey Chen is fresh out of college with all the usual new-adult demons: no cash, no job offers, and an awkward relationship with Zane, the old friend she kinda-sorta hooked up with during high school.
 
But when Zane introduces Bailey to his monster-fighting bartender friends, her demons become a lot more literal. It turns out that evil creatures stalk the city streets after hours, and they can be hunted only with the help of magically mixed cocktails: vodka grants super-strength, whiskey offers the power of telekinesis, and rum lets its drinker fire blasts of elemental energy. But will all these powers be enough for Bailey to halt a mysterious rash of gruesome deaths? And what will she do when the safety of a "real world" job beckons?
 
This sharp and funny urban fantasy is perfect for fans of Buffy the Vampire Slayer, Scott Pilgrim Vs. The World, and grown-up readers of Harry Potter. Includes 14 recipes from a book of ancient cocktail lore.
Praise For Last Call at the Nightshade Lounge: A Novel…
"Snarky, diverse, and an absolute blast."—Nerdist

"[Last Call at the Nightshade Lounge] features an appealingly sharp-yet-vulnerable heroine in recent college grad Bailey Chen, an effortlessly inclusive cast of fun supporting characters, and plenty of awesome snark. But as with the best humorous fantasies, the snark never gets in the way of the book's big, earnest heart, which it wears proudly on its (occasionally tipsy) sleeve."—Sarah Kuhn, author of Heroine Complex 

"Krueger's human cast is quirky and diverse, and…[he] keeps the story grounded in such a way that the reader easily forgets that they are reading fantasy and starts to feel as if Bailey's adventures could easily be their own."—Tor.com

"One of the most fun urban fantasies that I have ever read, with a sharp, kick-ass heroine who faces demons, a pushy mom, a possibly unrequited love interest and a plot to take over the world. You know you should be reading this with a tall, cool glass of your favorite libation close at hand."—San Diego Union Tribune

"Krueger's enjoyable light contemporary fantasy novel will satisfy fans of bars and bartenders…the winning main characters and the occasional histories of the drinks provide plenty of fun."—Publishers Weekly 
 
"The main character makes this book great, as the voice and insight are believable and fun. This book will appeal to a wide range of sf fans as the rest of the cast is believable and the hidden world of tremens (demonlike creatures) is great."—Booklist

"Simply epic."—BookRiot

"Hooked immediately. . . a fresh and unique premise."—Geeks of Doom 
Quirk Books, 9781594747595, 288pp.
Publication Date: June 7, 2016
About the Author
Paul Krueger is a fantasy writer and cocktail connoisseur whose work has appeared in the Sword & Laser anthology. He lives in Los Angeles.
or
Not Currently Available for Direct Purchase