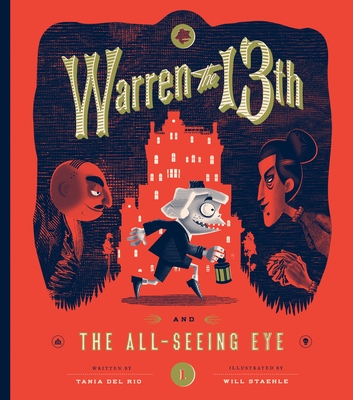 Warren the 13th and The All-Seeing Eye
A Novel
Hardcover

* Individual store prices may vary.
Description
A beautifully illustrated, action-packed middle grade adventure in the spirit of Edward Gorey and Lemony Snicket.

Warren the 13th is the lone bellhop, valet, groundskeeper, and errand boy of his family's ancient hotel. The strange, shadowy mansion is full of crooked corridors and mysterious riddles—and it just might be home to a magical treasure known as the All-Seeing Eye. But if Warren is going to find the hidden treasure, he'll need to solve several other mysteries first: What is the strange creature lurking in the hotel boiler room? Who is the ghostly girl creeping around the garden's hedge maze? And why is the hotel's only guest covered in bandages? Full of puzzles, secret codes, outrageous inventions, and hundreds of intricate illustrations, Warren the 13th and The All-Seeing Eye will delight and confound readers of all ages.
Praise For Warren the 13th and The All-Seeing Eye: A Novel…
"An engaging mystery to unravel, with a few nice twists and surprises along the way. . . . It's a fair bet that for many the main attraction of Warren the 13th and the All-Seeing Eye will be Staehle's lavish illustrations."—New York Times Book Review

"A whimsical mystery with a lot of heart and spine-tingling illustrations, this novel will circulate as soon as children open it."—School Library Journal, Starred Review

"The riveting story had interesting characters, riddles, and lots of drama. Readers will get caught up in the mystery and will want to keep turning pages to find out what happens next."—Nicolas Curry, Kid Reporter for Time for Kids

"Beautifully and amusingly designed and illustrated, featuring a plot filled with twists and riddles, this clever tale of mysterious goings-on at a run-down hotel proves to be an unlikely winner."—Common Sense Media, 4 out 5 stars

"An adventure with echoes of classic children's titles like Raskin's The Westing Game and Dahl's The Witches. . . . Stylish, exciting, funny, and just slightly macabre, this entertaining novel bodes well for Warren's future adventures."—Publishers Weekly
 
"All the delicious chaos of Warren the 13th and the All-Seeing Eye—first of a planned series—is wonderfully cloaked in a Victorian sensibility and design, a bit of Edward Gorey, a bit of Tim Burton."—Shelf Awareness

"Just the ticket for fans of Unfortunate Events in dim corridors and murky subterranean chambers."—Kirkus Reviews

"No amount of care was spared in this truly charming, wonderfully spun middle-grade adventure."—Karin Snelson, Shelf Awareness Pro
 
"Original, funny . . . it reminded me partly of Hotel Transylvania mixed with Coraline."—Joseph, Age 11 

"This story is absolutely enchanting and is a must-have for any child who enjoys adventure and magic, whether this book is read to them or they read it for themselves."—New York Journal of Books
Quirk Books, 9781594748035, 224pp.
Publication Date: November 24, 2015
About the Author
Will Staehle is the creator of Warren the 13th, and is an award-winning designer and illustrator. He grew up reading comics and working summers at his parent's design firm in Wisconsin. He now spends his days designing book covers, posters, and mini-comics, to ensure that he gets as little sleep as possible. He lives in Seattle. Tania Del Rio is a professional comic book writer and artist who has spent the past 10 years wiring and illustrating, primarily for a young audience. Her clients include Archie Comics, Dark Horse, and Marvel; she is best known for her work writing and drawing the 42-issue run of Sabrina the Teenage Witch. She lives in Los Angeles.