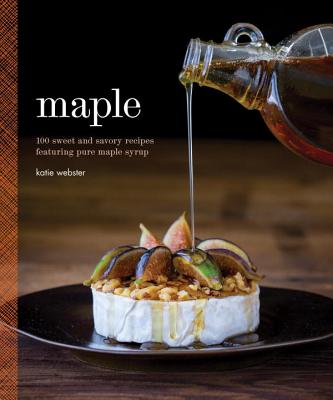 Maple
100 Sweet and Savory Recipes Featuring Pure Maple Syrup
Hardcover

* Individual store prices may vary.
Description
Explore 100 sweet and savory recipes, including plenty of vegan, gluten-free, and paleo-friendly options, all featuring the incomparable taste of maple.

Maple. The very word conjures up sweet memories of rich amber-colored syrups, indulgent breakfasts, and delicate candy. But that's just a drop in the sap bucket: this liquid gold works its magic on everything from barbecue sauce to classic cocktails to delectable desserts. Plus it's a healthier option than other sweeteners.
 
So step into the sugar shack as seasoned sap-tapper Katie Webster takes you behind the scenes of her backyard maple sugaring hobby. Then try your hand at her Maple Ginger Roasted Salmon or Smoky and Sweet Turkey Chili. Pour yourself a Maple Peach Old Fashioned and enjoy a helping of Bananas Foster Bundt Cake.
 
Selections from the Table of Contents
Breakfasts:
Potato and Sausage Breakfast Skillet with Greens 
Snickerdoodle French Toast
Maple Cranberry Walnut Granola
Maple Sweet Potato Coffee Cake
Dutch Baby Pancake with Maple Rhubarb Compote
 
Drinks and Appetizers:
Maple Meyer Lemon Whiskey Sour
Sugaring Season Hot Cocoa
Pumpkin Maple Dip with Apple Wedges
Skewered Seared Duck with Tabasco Plum Sauce
Maple Cashew Chicken Satay
 
Soups, Side Dishes, and Salads:
Carrot Ginger Soup with Maple Yogurt
Slow Cooker Chicken Thigh Hot Pot
Sap Baked Beans
Kale Skillet Salad with Walnuts and Maple
Layered Beet and Carrot Salad
 
Main Courses:
Vermonter Quesadillas with Maple Cream
Chicken, Peanut, and Napa Cabbage Pad Thai
Maple Pork Loin Roast with Apple Chutney
Spicy Peanut Noodles with White Pepper Sirloin
Swordfish with Maple Pipérade
 
Desserts:
Maple Shortbread Cookies
Maple Date Bread Pudding
Maple Bourbon Pumpkin Pie
Maple Bacon Peanut Brittle
Maple Pear Ginger Sorbet
Praise For Maple: 100 Sweet and Savory Recipes Featuring Pure Maple Syrup…
"It's maple season year-round with this attractive cookbook by recipe developer, blogger and magazine writer Katie Webster…. For those who would only pour the sweet stuff over pancakes, Webster opens up a whole new world." –Vermont Life
 
"Webster's enthusiasm for all things maple is infectious. Featuring varied recipe categories and an attractive, easy-to-browse design, her cookbook will interest home cooks of all skill levels."—Library Journal, starred review

"A well rounded book about a topic that is timed perfectly with our collective interest in alternative sweeteners, healthier fare, and the cozy flavors of autumn and winter."—The Oregonian

"Maple is a unique culinary resource and will prove to be an enduringly popular addition to personal, family, and community library cookbook collections."—Midwest Book Review

"These recipes fairly shout 'fall in New England.'"—The Recorder
 
"Not just a great gift, a great resource for the upcoming holiday season!"—Retailing Insight

"Every now and then, you run across a cookbook with so many delicious-looking recipes, you're not sure which one to try first. Such is Maple..."—Grandparents.com

Quirk Books, 9781594748042, 176pp.
Publication Date: October 6, 2015
About the Author
Katie Webster is a food blogger, recipe developer, and former food stylist who focuses on healthy eating and cooking with locally sourced seasonal ingredients. She lives in Richmond, Vermont, deep in a stand of maple trees. Her family taps their trees every spring to make pure maple syrup.
 
Katie studied art and photography at Skidmore College and is a graduate of the New England Culinary Institute. She is a contributing editor to, and former recipe developer and tester for, Eating Well magazine. Her work also regularly appears in Fitness and Parents magazines, as well as around the Internet.
 
When she's not cooking, styling, and taking photographs, you can find Katie teaching fitness classes, gardening, or spending time with her husband and daughters. Visit her online at HealthySeasonalRecipes.com.