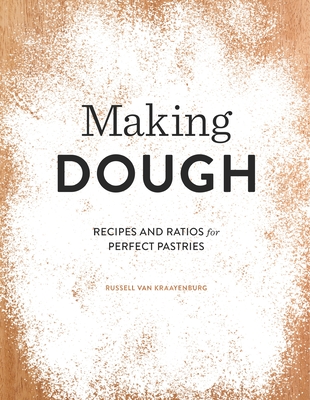 Making Dough (Hardcover)
Recipes and Ratios for Perfect Pastries
Quirk Books, 9781594748189, 208pp.
Publication Date: November 10, 2015
* Individual store prices may vary.
Description
Perfect for chefs and home bakers alike, this cookbook makes it easy to make puff pastry, sweet crusts, pâte à choux, croissants, brioche, and more from scratch!
 
With clear instructions and helpful diagrams, chefs will learn how the ratio of just five ingredients—flour, butter, water, sugar, and eggs—can be tweaked to bake a patisserie's worth of delectable desserts and savory treats. Delectable recipes both savory and sweet for treats like Cheddar Bacon Biscuits, Root Vegetable Spiral Tarts, Cherry Cheesecake Danishes, and Salted Caramel Éclairs give plenty of tasty spins on the basic formulas. And with plenty of tips and tricks to up your baking game, it's a snap to riff on the recipes and invent your own incredible pastries.
 
Table of Contents
Biscuit Dough

Scone Dough

Pie Dough

Shortcrust Dough

Sweetcrust Dough

Pâte à Choux Dough

Brioche Dough

Puff Pastry Dough

Rough Puff Pastry Dough

Croissant Dough

Danish Dough

Phyllo Dough
About the Author
Russell van Kraayenburg, author of Haute Dogs (Quirk, 2014) and blogger at Chasing Delicious, is a self-proclaimed food nerd and pastry lover. His work has been featured in Southern Living, Men's Fitness, Redbook, TRADhome, Real Simple, and Houstonia magazines and on various websites including Lifehacker, Fast Co., Business Insider, The Kitchn, Live Originally, Quipsologies, Explore, and Fine Cooking. Russell is always looking for new and exciting ways to inspire food nerds and food-phobic individuals alike to pick up a whisk and spoon.
Praise For Making Dough: Recipes and Ratios for Perfect Pastries…
"Russell van Kraayenburg's Making Dough: Recipes and Ratios for Perfect Pastries would make a fine addition to any aspiring pastry chef's recipe collection….Much thought and testing has gone into educating the reader about what makes for a great pastry dough, including the pairing of various flours and ingredients; the ratio of those blends; the requisite tools; the right way to measure; and sundry methods of mixing and working dough."—Central Maine Today

"Russell van Kraayenburg, founder of the award-winning blog Chasing Delicious, has harnessed the formula for perfect pastry in Making Dough: Recipes and Ratios for Perfect Pastries."—Fort Bend Lifestyles and Homes

"Thoroughly 'kitchen cook friendly', even the most novice of bakers will find the recipes comprising Making Dough to be easy to follow, especially after reading the opening chapter 'Getting Started' which includes What is Do?; Measuring; Ratios; Ingredients; Tools; Mixing Methods; Tips for Working with Dough; and Making it Your Own."—Midwest Book Review

"Making Dough arms you with the skills you need for a lifetime of baking and, therefore, happiness. Truly, a gift that keeps on giving." –Whisk Kid
 
"Making Dough does a great job of breaking down dough, with ratios and diagrams to explain why different doughs act the way they do and how to make them successfully. This book is a welcome guide to make dough just a little less frustrating." –Dessert First
 
"It's a cookbook that I think should be in any kitchen from beginners to bakers like me who have been at it for a while. I wish I had had a book like this when I first started playing with flour and butter." –Brokenteepee 
 
"Russell's book is a true testament to the science of baking. I would deem it a baking textbook, one that every ambitious baker should have on their shelf. There is a lot to learn, and Russell makes it easy to do so." –Living The Sweet Life