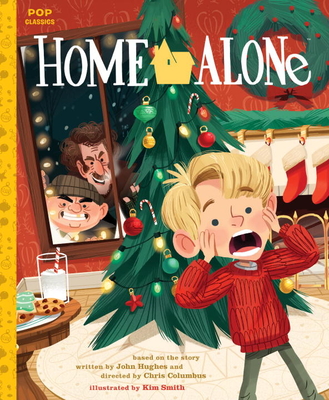 Home Alone (Hardcover)
The Classic Illustrated Storybook (Pop Classic Picture Books)
Quirk Books, 9781594748585, 40pp.
Publication Date: October 6, 2015
Description
The beloved, classic Christmas movie is now an illustrated storybook for readers of all ages With an amusing read-aloud story and enchanting, immersive illustrations, this charming adaptation is the perfect nostalgic gift alongside family holiday classics like The Polar Express and How the Grinch Stole Christmas. Eight-year-old Kevin McCallister wished his family would disappear. He never thought his wish would come true Can he keep a couple of crooks from entering his house? And will his family return in time for Christmas? Complete with bumbling burglars, brilliant booby traps, and a heartwarming happy ending, this picture book is perfect for movie fans, parents, and any kid who's ever dreamed of being home alone.
About the Author
John Hughes wrote the story and screenplay of Home Alone. He also wrote and directed many popular films for teenagers and adults, including The Breakfast Club and Ferris Bueller's Day Off. (You're going to love them when you get a little older.) Chris Columbus directed the movie Home Alone. He has also directed many other celebrated family films, including Mrs. Doubtfire and Harry Potter and the Sorcerer's Stone. Kim Smith is an illustrator from Calgary, Alberta. She has illustrated several children's books including Over the River & Through the Wood: A Holiday Adventure (Sterling, 2015) Home Alone: The Classic Illustrated Storybook (Quirk Books, 2015). Her recent books include The X-Files: Earth Children are Weird (Quirk Books, 2017), The Great Puppy Invasion (Houghton Mifflin Harcourt, 2017) and E.T. the Extra-Terrestrial: The Classic Illustrated Storybook (Quirk Books, 2017). Kim lives in Calgary with her dog, Whisky, and husband, Eric. Visit Kim online at kimillustration.com.
Advertisement