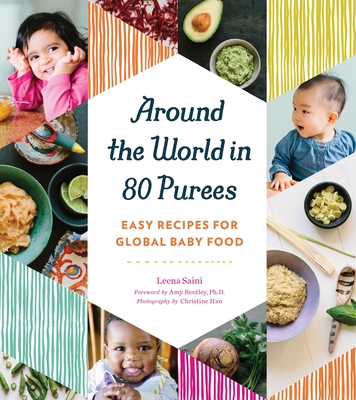 Around the World in 80 Purees
Easy Recipes for Global Baby Food
Paperback

* Individual store prices may vary.
Description
Introduce your baby to a world of flavors with easy-to-make recipes for homemade baby food, featuring healthy ingredients, baby-friendly spices, and cuisines from India, China, France, Mexico, Morocco, and the rest of the globe.
 
Baby food is a terrific way to share the flavors you love, nurture development through wholesome ingredients, and encourage lifelong adventurous eating. So why limit your options to just bland mush? It's time to think outside the jar! With Around the World in 80 Purees, you can create baby food inspired by the cuisines of India, China, France, Mexico, Morocco, and the rest of the globe. The recipes are quick and easy, with imaginative variations featuring your favorite spices and flavors. Continue the culinary adventure as your little one becomes a toddler by offering a range of internationally inspired simple solids. Broaden your baby's palate by the spoonful!
 
Selections from the Table of Contents:
Baby-Friendly Spices
First Foods around the World
Equipment
A Whole Wide World of Purees - For Babies 6 Months and Up:
- Indian Saag Masala
- Nigerian Isu
- Moroccan Figs and Apricots with Aniseed
- Chinese Congee
- English Peas with a Hint of Mint
A Spoonful of Flavor - For Babies 7-9 Months and Up
- Iranian Rosewater Vanilla Smoothie
- Ethiopian Niter Kibbeh
- Egyptian Fava Beans
- Japanese Carrot Soba
- Turkish Seasoned Lamb Kebabs
The Well-Seasoned High Chair - For Babies 10 Months and Up
- Mexican Atole
- Italian Pastina with Parmesan and Nutmeg
- Spanish Pasta Romesco
- Lebanese Muhallabia
- Taiwanese Lou Rou Fan
Praise For Around the World in 80 Purees: Easy Recipes for Global Baby Food…
"New moms deserve love, too! This "global baby food" cookbook is a fun option for moms who recently delivered (or who are almost at their due date)."—The Pioneer Woman

"The recipes Saini provides for parents in her book are anything but bland."—The Princeton Sun

"…[Around the World in 80 Purees] is just the thing if you would like to vary your baby's diet…. The great thing about these baby foods is that most of them (at least the ones I perused through) do not include "crazy" ingredients that you've never heard of or are hard to come by. For the most part, they all contain ingredients that you are familiar with, but maybe had never thought to put them together in such a way, especially for babies."–Mixed Bag Mama

"[Around the World in 80 Purees] delivers a wide variety of purees that will captivate your baby's palate and encourage future exploration in the world of solid food."—Library Journal

"This lovely book is an inspirational corrective to the common wisdom that babies' first foods should be bland and that young kids are picky eaters. Instead, this fascinating global exploration of baby food shows us that any infant can become an open, adventurous eater and embark on a lifelong and rewarding culinary journey. (Bonus: these recipes are delicious enough for parents too.)" –Christine Gross-Loh, bestselling author of The Path: What Chinese Philosophers Can Teach Us About the Good Life and Parenting without Borders

"Leena Saini will have your little one turning into a 'foodie in a onesie,' and maybe you as well (though maybe not the onesie part).  Her global approach to homemade baby food is well researched and full of flavorful recipes from every continent. . . .Around the World in 80 Purees is a cookbook I highly recommend."—Bookworlder
Quirk Books, 9781594748950, 160pp.
Publication Date: August 16, 2016
About the Author
Leena Saini is a lifelong foodie who has written about global baby food for Baby Center and on the food blog Eat, Drink, Better. She's also a regular contributor to masalamommas.com and Sally's Place. She lives in New Jersey. Find her online at masalababyfood.com.
or
Not Currently Available for Direct Purchase