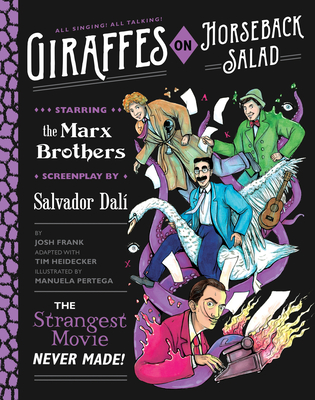 Giraffes on Horseback Salad
Salvador Dali, the Marx Brothers, and the Strangest Movie Never Made
Hardcover

* Individual store prices may vary.
Description
This lushly illustrated graphic novel re-creates a lost Marx Brothers script written by modern art icon Salvador Dali.

Grab some popcorn and take a seat...The curtain is about to rise on a film like no other! But first, the real-life backstory: Giraffes on Horseback Salad was a Marx Brothers film written by modern art icon Salvador Dali, who'd befriended Harpo. Rejected by MGM, the script was thought lost forever. Author and lost-film buff Josh Frank unearthed the original script, and Dali's notes and sketches for the project, tucked away in museum archives. With comedian Tim Heidecker and Spanish comics creator Manuela Pertega, he's re-created the film as a graphic novel in all its gorgeous full-color, cinematic, surreal glory. In the story, a businessman named Jimmy (played by Harpo) is drawn to the mysterious Surrealist Woman, whose very presence changes humdrum reality into Dali-esque fantasy. With the help of Groucho and Chico, Jimmy seeks to join her fantastical world—but forces of normalcy threaten to end their romance. Includes new Marx Brothers songs and antics, plus the real-world story behind the historic collaboration.
Praise For Giraffes on Horseback Salad: Salvador Dali, the Marx Brothers, and the Strangest Movie Never Made…
2020 Eisner Award Nominee for Best Adaptation from Another Medium
Named a Best Comic & Graphic Novel of March 2019 by B&N Sci-Fi & Fantasy blog

"Don't even try to understand; just revel in the weirdness, along with the wonderful photographs and other archival material Frank includes in this book."—Maureen Corrigan, National Public Radio

"It's a remarkable book."—The Washington Post

"Giraffes on Horseback Salad makes a good book."—Etelka Lehoczky, National Public Radio

"A really cool, funny, abstract graphic novel."—CNET

"Classic cinema buffs and Dalí fanatics will appreciate the care and effort taken by the authors."—Booklist

"This graphic novel is utterly one of a kind…the overall page compositions are exceptional, bursting with motion, mind-bending patterns, and wildly shifting color schemes…This messy, imperfect, fearless visual buffet is almost certainly better than any film version would have been."—Publishers Weekly

"The graphic novel is a fun read in its own right, and the well-told story behind the story makes it an interesting part of Hollywood's history."—San Diego Jewish World 

"A book that should satisfy fans of Dali or the Marx Brothers, or anyone looking for something completely outside the norm."—Foreword Reviews

"A most strange yet passionately earnest graphic novel...A lavish layout, with a nice overall design and chock full of opening essays and forewords that bring the reader along on Frank's quest to find and bring Dali's half-baked project to full fruition."—Geeks Of Doom

"A sense of marvel persists throughout the book."—Hyperallergic 

"This book is a gallery, a museum, a riotous romp of art that reverberates through personal and public history and will make your dwelling's shelves (and your mind) a little loonier."—The Austin Chronicle 
Quirk Books, 9781594749230, 224pp.
Publication Date: March 19, 2019
About the Author
Josh Frank is author of Fool the World: The Oral History of a Band Called Pixies, In Heaven Everything Is Fine, and, with Black Francis and Steven Appleby, the illustrated novel The Good Inn. In his spare time, he owns and operates the Blue Starlite Mini-Urban Drive-In Movie Theatre in Austin, Texas.

Tim Heidecker is an award-winning comedian, writer, director, actor, and musician. He is one half of the comedy team Tim & Eric, with Eric Wareheim, known for the TV shows Tom Goes to the Mayor, and Tim and Eric Awesome Show, Great Job!, as well as the film Tim & Eric's Billion Dollar Movie and the popular book Tim & Eric's Zone Theory.

Manuela Pertega is a comics artist and illustrator based in Barcelona, Spain. She graduated from the University of Barcelona with a specialization in drawing and restoration/conservation. She teaches art at Badalona VII, a public art institute, and at La Taca, an art school.
Coverage from NPR