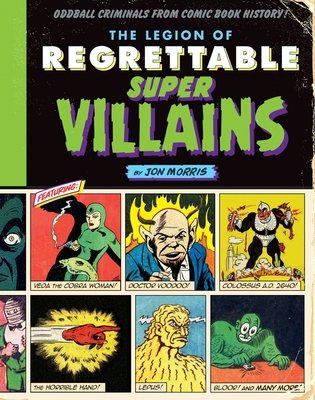 The Legion of Regrettable Supervillains
Oddball Criminals from Comic Book History
Hardcover

* Individual store prices may vary.
Description
Meet more than one hundred of the oddest supervillains in comics history, complete with backstories, vintage art, and colorful commentary.

This collection affectionately spotlights the most ridiculous, bizarre, and cringe-worthy criminals ever published, from fandom favorites like MODOK and Egg Fu to forgotten weirdos like Brickbat (choice of weapon: poison bricks) and Animal-Vegetable-Mineral Man. Casual comics readers and diehard enthusiasts alike will relish the hilarious commentary and vintage art from obscure old comics.
Praise For The Legion of Regrettable Supervillains: Oddball Criminals from Comic Book History…
"Fascinating."—Entertainment Weekly
 
"A sequel to Morris's acclaimed The League of Regrettable Superheroes, this quick-read volume is a chronological encyclopedia of the strangest and silliest antagonists ever to appear in sequential art."—Vulture
 
"In the realm of comic books, the undisputed guru of all things ridiculous, forgotten, and regrettable is Jon Morris."—VICE
 
"[A] delightfully fun rundown of more than 100 of pulp history's most marvelous forgotten baddies."—Parade

"In a world filled with polished silver-screen superheroes, one author has curated the unthinkable...Each section is full of gorgeous vintage comic art and poignantly entertaining character entries, complete with the villain's backstory and superhero rivals. Resurrected, these forgotten villains finally enjoy a moment in the cultural spotlight alongside their overshadowing opponents at the box office."—PRINT magazine

"[The Legion of Regrettable Supervillains] is loads of great fun and is a welcome addition to any coffee table."—Plain Dealer 

"Morris is the perfect person to reintroduce the world to these characters...Pair this book with Morris' book of regrettable heroes and a couple tickets to the latest Marvel or DC movie, and it'll make a great gift for fans of all ages."—The Oklahoman

"Served up with lashings of delicious snark."—SFX Magazine

"[The Legion of Regrettable Supervillains] celebrates the imaginations of those who could combine bold, outrageous action with realistic visuals of the bizarre and confrontational. A quirky view of comic book history, it reflects changes in society via a colorful and informative treatment."—MetroKids

"[The Legion of Regrettable Supervillains] shines a light on some characters you've definitely never heard of before that'll help up your geek cred and make you extra awesome at trivia nights."—Rogues Portal

"Morris has done his homework, and it shows."—Doom Rocket

"Wonderful."—Geeks of Doom
 
"The Legion of Regrettable Supervillains is a great read for any diehard comic fan and gives you a slew of fun facts that you will love."—BioGamer Girl 

Praise for The League of Regrettable Superheroes:
"A volume rich with historical anecdotes and informed commentary on every era of comics history."—A.V. Club

"With its gorgeous full page images of the comics and humorous descriptions of the heroes, each second-stringer gets a few pages of glory."—BoingBoing

"Jon Morris has compiled the histories and art of some of the strangest and most unusual superheroes that ever saw print and collected them here for you. Definitely check it out!"—Nerdist

"This compendium of short-lived superheroes (from actual comics) will thrill and amaze."—Mental Floss

"A great idea, executed with adroit prose, attractive design and painstaking production quality...turning what could have been a merely dutiful archive into a vibrant, living, expertly curated tour of a long-neglected and seriously goofy facet of American cultural history."—NPR's Monkey See
 
Praise for The League of Regrettable Sidekicks:
"A gorgeous technicolor reference tome."—Tor.com 
 
 "Entertaining, well-written and researched...Highly recommended!"—My Comic Book
Quirk Books, 9781594749322, 256pp.
Publication Date: March 28, 2017
About the Author
Jon Morris is a cartoonist and graphic designer and author of The League of Regret­table Superheroes (Quirk, 2015), The Legion of Regrettable Supervillains (Quirk, 2017), and The League of Regrettable Sidekicks (Quirk, 2018). Since the late 1990s, he's operated the blog Gone & Forgotten, an irreverent in-depth look at the worst, the lowliest, and the most unfortunate stories and characters comic books have ever offered.