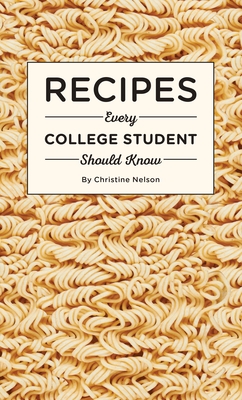 Recipes Every College Student Should Know (Stuff You Should Know #20)
Hardcover

* Individual store prices may vary.
Description
A perfect gift for hungry dorm-dwellers, this must-have pocket guide will help students make and eat healthy snacks, meals, and other tasty bites.

Discover quick breakfasts to help you make it to class on time, backpack-friendly lunches, dormmate dinners for a crowd, study break snacks, and of course an infallible recipe for microwave mug cake—plus basic tools, terms, nutrition, budgeting guides, and safety tips for novice cooks. No matter if you've got a microwave and an electric kettle or a full-sized kitchen, this book will have you well-fed and back to studying (or video games) in no time. Recipes include:

   • Breakfast Burritos
   • Hummus and Veggie Wraps
   • Healthy Avocado and Sunflower Seed Sandwich
   • Bacon: Microwaved or Panfried
   • Chocolate-Covered Popcorn
   • And more!
Praise For Recipes Every College Student Should Know (Stuff You Should Know #20)…
"The perfect guide for any dorm-dweller to learn simple and healthy recipes that will not only satisfy but also save both time and money."—POPSUGAR

"Got a college student? Or just a kid who with some kitchen curiosity? Recipes Every College Student Should Know, which is perhaps the world's smallest cookbook, can get them started. Although it measures just 4-by-6-inches, it's akin to Cooking 101."—The Virginian-Pilot 

"This book goes far beyond ramen noodles, so don't be fooled by the cover!"— Buzzfeed

"Nelson's tome gets down to the basics."—The Star-Ledger

"With this book on hand, they'll quickly learn how to fend for - and feed - themselves something other than ramen."—First For Women

"No bigger than your hand but can teach you tons of useful things about cooking."—College Magazine 

"Step aside instant ramen and overpriced coffee! Within these pages, homemade iconic college staples are at your fingertips."—The Young Folks

"This is, by far, the best guide for college students to learn to cook I've ever seen. It is clear, interesting, and has tasty, filling, healthy recipes."—Dr. Jessie Voigts, Wandering Educators

"Nelson delivers some core pieces of wisdom about cooking in college"—Publishers Weekly
Quirk Books, 9781594749544, 144pp.
Publication Date: March 28, 2017
About the Author
Christine Nelson is a writer, cook, and accountant in Clayton, New Jersey. She has four college-age sons who routinely call her for advice at dinnertime.