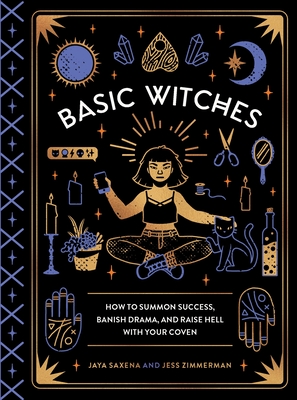 Basic Witches
How to Summon Success, Banish Drama, and Raise Hell with Your Coven
Hardcover

* Individual store prices may vary.
Other Editions of This Title:
Digital Audiobook (4/16/2018)
Paperback, Spanish (7/17/2018)
Description
A magical lifestyle guide for everything from powering up a stylish crystal to banishing terrible Tinder dates

Want to feel terrifyingly beautiful? Wear the right color of eye shadow to project otherworldly glamour. Need to exorcise a toxic friendship? Repeat the proper incantation and make it disappear. Want to increase your energy? Whip up a tasty herbal "potion" to rev up your stamina. DIY projects, rituals, and spells—along with fun historical sidebars—summon the best trends of the modern witchy lifestyle and the time-trusted traditions of the hell-raising women of the past. With humor, heart, and a hip sensibility, Jaya Saxena and Jess Zimmerman dispense witchy wisdom for the curious, the cynical, and anyone who could use a magical boost.

Selected Table of Contents:

CHAPTER 1 - Self-Initiation: An Induction into Basic Witchery
What We Mean by "Witchcraft"
Our Favorite Pop Culture Witches

CHAPTER 2 - Glamours: The Power to Change How You Look
How to Clothe Yourself in Literal Darkness
The Dark Magic of Unfeminine Haircuts
A Spell for Self-Care

CHAPTER 3 - Healing: The Power to Care for Yourself
A Spell to Make Peace with Your Body
Magical Exercise
A Ritual for a Relaxing Netflix Binge

CHAPTER 4 - Summoning: The Power to Care for Others (and Have Them Care for You)
The Transformative Power of Vulnerability
A Collaborative Ritual to Deepen Friendship

CHAPTER 5 - Enchantment: The Power to Make Choices about Love and Sex
Conjuring Your Perfect Mate
The Magic Circle of Consent
A Spell for Talking about Sex

CHAPTER 6 - Banishment: The Power to Avoid What Brings You Down
Expelling Social Toxicity
The Different Types of Personal Demons
A Spell to Counter Impostor Syndrome

CHAPTER 7 - Divination: The Power to Decide Your Destiny
A Spell to Name Your Heart's Desire
How to Read Tea Leaves
Praise For Basic Witches: How to Summon Success, Banish Drama, and Raise Hell with Your Coven…
"The practical mantras and rituals in Basic Witches help banish toxic vibes and summon the sorcery to lead an empowered life. Pairs well with a cauldron of rosé."— Los Angeles Times

"A must-read book of spells and lifestyle tips for the aspiring millennial witch. . . full of humor, positive affirmations, historical asides, feminist rants, and adorable illustrations."—Bustle

"The perfect book for our times… It's not going to tell you how to turn invisible, or use positive thinking to bring yourself everything you ever want in life. What Saxena and Zimmerman created is a fun, thoughtful, and sometimes very funny way to use rituals to take care of yourself, to create reminders of the way you want to move through the world... Magic, indeed."—Tor.com

"Packed with plenty of magick, including spells you can cast by yourself or with your BFFs, this book is for the basic witch in us all."—HelloGiggles

"With humor, heart, and a hip sensibility, Jaya Saxena and Jess Zimmerman dispense witchy wisdom for the curious, the cynical, and anyone who could use a magical boost."—Autostraddle 

"A modern take on mysticism for the Rookie set."—Sanctuary

"A handy guide to boosting self-confidence and reaching positive outcomes."—Publishers Weekly, starred review

"Interesting and empowering."—Syfy Wire

"This book is a gem—get it for you, for your girl gang, and any woman who might be occasionally tempted to hex a catcaller."—BookRiot

"The perfect read for women who wish to embrace the power they have from within and transform it into personal purpose, truth and intention."—Soul & Spirit Magazine
Quirk Books, 9781594749773, 208pp.
Publication Date: August 29, 2017
About the Author
Jaya Saxena is the co-author of Basic Witches (Quirk, 2017) and a staff writer at Eater. Her work has appeared in many outlets, including the New York Times, Buzzfeed, GQ, ELLE, Electric Literature, Catapult, the Daily Dot, The Toast, and more. She lives in New York City with her partner. 
 
Jess Zimmerman is the editor-in-chief of Electric Literature. Her writing has been published in the Guardian, the New Republic, the Washington Post, Hazlitt, Vice, Eater, and others.