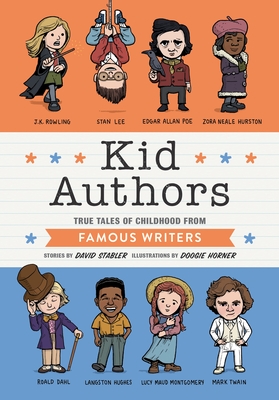 Kid Authors
True Tales of Childhood from Famous Writers (Kid Legends #4)
Hardcover

* Individual store prices may vary.
Other Editions of This Title:
Digital Audiobook (1/6/2020)
Description
Funny and totally true childhood biographies and full-color illustrations tell the tales from the growing-up years of Beverly Cleary, J. R. R. Tolkien, and 13 other great writers.
 
Every great author started out as a kid. Before the best sellers, fan clubs, and beloved stories we know today, the world's most celebrated writers had regular-kid problems just like you. Sam Clemens (aka Mark Twain) loved to skip school and make mischief, with his best friend Tom, of course! A young J. R. R. Tolkien was bitten by a huge tarantula—or as he called it, "a spider as big as a dragon." Toddler Zora Neale Hurston took her first steps when a wild hog entered her house and started chasing her!

Kid Authors tells their stories and more—the diverse and inclusive cast that includes Roald Dahl, Beverly Cleary, J. K. Rowling, Jules Verne, Lewis Carroll, Stan Lee—through kid-friendly texts and full-color cartoon illustrations on nearly every page.
Praise For Kid Authors: True Tales of Childhood from Famous Writers (Kid Legends #4)…
"Lively glimpses of formative moments and budding talents."—Kirkus Reviews

"A fun and useful addition, especially for aspiring writers and class projects."—School Library Journal, Paige Rowse, Needham High School, MA
 
"This is an ideal gift for aspiring young writers who may need proof that even the most famous authors had to start somewhere."—Shelf Awareness for Readers

"[Kid Authors] was full of real information, but the author made it fun and funny … I would recommend this book for all people who read books and want to know interesting information about authors, and also for people who want to be authors themselves."—Michael, age 9

Praise for Kid Presidents:
"Just like history class, only hilarious."—Tim Federle, author of Better Nate Than Ever

"With cartoonish illustrations that will attract fans of Jeff Kinney's The Diary of a Wimpy Kid and Rachel Renée Russell's The Dork Diaries, this informative offering leaves no presidential childhood rock unturned."—School Library Journal

"Caricatures by Horner are whimsical and funny, a good match for a book that demonstrates that every president started life as a goofy, regular kid."—Booklist

Praise for Kid Artists:
"Impressively diverse."-Booklist

"For budding artists, here's a heartening reminder that 17 unconventional greats—not to mention all the rest—started out as children too." —Kirkus Reviews

"Memorably weird childhood moments—Jackson Pollock accidentally had part of a finger chopped off and then eaten by a rooster—are likely to stick with readers, as will Horner's impish cartoons."-Publishers Weekly

Praise for Kid Athletes:
"Outstanding...Inspiring and entertaining, Kid Athletes isn't just for sports fans."—Booklist, starred review

"Even if you don't exactly love sports, this book only says a little bit about them in the actual sport, so go out and get this book because it will teach you a lot and you will enjoy it immensely."—Kidsday reporters, Newsday

"Perfect for the adolescent set, these inspiring stories mix fun and non-fiction."—Geeks of Doom
Quirk Books, 9781594749872, 200pp.
Publication Date: October 10, 2017
About the Author
Author David Stabler and illustrator Doogie Horner have created several books together, including Kid Presidents (Quirk, 2014), Kid Athletes (Quirk, 2015), Kid Artists (Quirk, 2016), and Kid Authors (Quirk, 2017).