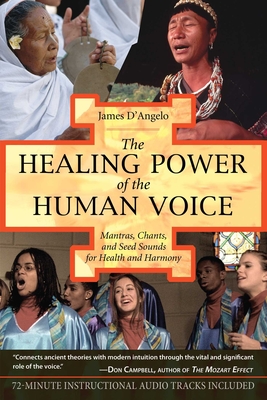 The Healing Power of the Human Voice
Mantras, Chants, and Seed Sounds for Health and Harmony
Paperback

* Individual store prices may vary.
Description
A complete introduction to using the sounds of the voice to promote healing

• Explains the emotional meanings and healing attributes of human vocal expression, from vowels and consonants to natural sounds such as laughter or sighs

• Includes easy-to-follow vocal and breathing exercises

• Contains chants and mantras from cultures around the world

As infants and children we use our vocalizations to express our needs and emotions. As we grow older these vocalizations become confined to language. The suppression of emotional sounds because they may be considered childish or undignified is quite commonplace in Western cultures. Yet when done with vigor, the sounds made by laughing, groaning, humming, keening, and sighing hold within them great power for healing.

In The Healing Power of the Human Voice James D'Angelo introduces the concepts behind sound healing and provides simple, practical exercises for beginners. He explains in detail the meanings and healing attributes of the whole range of human vocal expression, from vowels and consonants to the natural sounds of laughter or sighs. He praises the power of singing and reveals the ways in which group singing can contribute to physical and mental health. He also presents authentic classical chants and mantras from cultures around the world and shows how we can combine various vocal sounds to form our own mantra to help clear chakra blockages. All of the sounds discussed, as well as the techniques for producing overtones, are placed in a ritualized context and are accompanied by simple movements to enhance tuning the body toward inner harmony, health, and peace.
Praise For The Healing Power of the Human Voice: Mantras, Chants, and Seed Sounds for Health and Harmony…
"James D'Angelo's joy in sound and silence, and his reverence for the sacred, burst through every sentence."
— Caduceus Magazine

"An excellent book full of pertinent information and practical exercises on the uses of the voice as a healing instrument. I highly recommend it!"
— Jonathan Goldman, author of Healing Sounds

"Humans have a unique, dual relationship with sound--we can both hear it as well as make it. James D'Angelo is an engaging and insightful guide to the sounds we produce. The information and exercises in The Healing Power of the Human Voice provide great value for anyone seeking equanimity and wellness in their lives."
— Joshua Leeds, psychoacoustic music producer and author of The Power of Sound and Sonic Alchemy

"Connects ancient theories with modern intuition through the vital and significant role of the voice."
— Don Campbell, author of The Mozart Effect

"This is an excellent starting point for beginners and also holds useful ideas and practices for those who have been involved in working with the voice for some time."
— Russell Stone, The Music and Psyche Journal, Oct 2005

". . . [this book] is a profound reminder that the voice is both a resonator of the immanence of spirit as well as a pathway to transcendence."
— Katherine Firth, Caduceus, April 2007
Healing Arts Press, 9781594770500, 192pp.
Publication Date: May 27, 2005
About the Author
James D'Angelo, Ph.D. is an American musician, composer, educator, and workshop leader based in the United Kingdom. Since 1992 he has developed and led therapeutic sound and movement workshops in Great Britain, Europe, and the United States, and he is considered an authority on sound healing therapies.