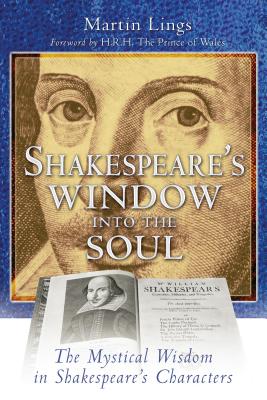 Shakespeare's Window into the Soul
The Mystical Wisdom in Shakespeare's Characters
Paperback

* Individual store prices may vary.
Description
A study of the mystical, spiritual, and profound visionary wisdom contained in Shakespeare's plays

• Reveals the significant mystical symbolism in ten of Shakespeare's later, more mature, works including Hamlet, Macbeth, and The Tempest

• Shows the progress of Shakespeare's own spiritual development through comparison of his earlier and later plays

The plays of William Shakespeare are considered among the greatest dramatic works ever written because they transcend both age and time in the truths they convey about human nature. But Shakespeare's plays, argues author Martin Lings, concern far more than the workings of the human psyche; they are sacred, visionary works that, through the use of esoteric symbol and form, mirror the inner drama of the journey of all souls.

In Shakespeare's Window into the Soul, Martin Lings provides an in-depth study of Shakespeare's later, more mature plays, such as Hamlet, Macbeth, King Lear, and The Tempest. By revealing the mystical meaning of these works, Lings not only conveys the dramatic artistry of these masterpieces, but also leaves readers with a deep and lasting impression of the playwright himself and his keen understanding of the passage the soul must make to reach its final sacred union with the divine.
Praise For Shakespeare's Window into the Soul: The Mystical Wisdom in Shakespeare's Characters…
"A book I found hard to put down. [Provides] the meaning of the symbols Shakespeare uses to describe the inner drama of the journey of the soul contained within the earthly drama of the plays."
— H.R.H. The Prince of Wales

". . . an in-depth reading of some of Shakespeare's later plays, from Henry IV to The Tempest, that explores how Shakespeare followed a more medieval tradition of the sacred, rather than the Renaissance trend toward humanism . . . . worth picking up if you are a true disciple of the Bard and want to read as much scholarship as possible."
— Karyn Johnson, Curled up with a Good Book, Dec 2006
Inner Traditions, 9781594771200, 224pp.
Publication Date: June 27, 2006
About the Author
Martin Lings (1909-2005) was a renowned British scholar who taught at several European universities and the University of Cairo. He was the keeper of Oriental manuscripts in the British Museum and the British Library and the author of numerous books on religion and spirituality, including The Book of Certainty, What is Sufism?, Ancient Beliefs and Modern Superstitions, and the internationally acclaimed Muhammad: His Life Based on the Earliest Sources.