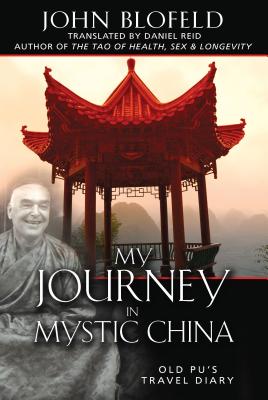 My Journey in Mystic China (Hardcover)
Old Pu's Travel Diary
Inner Traditions, 9781594771576, 296pp.
Publication Date: March 18, 2008
* Individual store prices may vary.
Description
The only English translation of John Blofeld's memoirs as a Westerner living in China prior to the Communist Revolution

• Paints an intimate portrait of the grace and refinement of ancient Chinese civilization

• Originally written in Chinese for Chinese readers, revealing a rare glimpse of Blofeld's private Chinese side and uncensored views

• The last book by the great English sinologist, translator of the I Ching and author of Taoist Mystery and Magic

The reveries and remembrances contained in the travel diaries of John Blofeld cover every aspect of his life in China--from visits to opium dens and sing-song houses to sojourns in the Buddhist monasteries and Taoist hermitages of China's sacred mountains. Here is a vivid glimpse of "old" China as it existed in elegance and grace for three thousand years before China's Communist Revolution. Originally written in Chinese for a Chinese audience, Blofeld's travel diary reveals a rare, uncensored view of pre-communist China to which few westerners have been exposed.
About the Author
John Blofeld (1913-1987) was an eminent sinologist and humanist who authored numerous books on Buddhism and Taoism, including The Zen Teachings of Huang Po, Taoist Mystery and Magic, My Journey in Mystic China, and a translation of the I Ching, the Book of Changes. He lived in China from 1932 until 1949 when the Communist Revolution forced him to relocate to Thailand, where he remained for the rest of his life.

Daniel Reid has a Master's degree in Chinese language and civilization, and he studied Taoist practices in Taiwan for 16 years and in Thailand for 10 before moving to Australia in 1999. He is the author of several books, including The Tao of Health, Sex & Longevity and The Complete Book of Chinese Health & Healing, and the translator of My Journey in Mystic China, John Blofeld's autobiographical account of his years spent in pre-Communist China.
Praise For My Journey in Mystic China: Old Pu's Travel Diary…
"This is John Blofeld's intimate and heartfelt personal account of a life spent in the old China we have all heard and dreamt about, but which is gone forever. As such it should be savored as a first-class treasure, for it is like a long-lost gem recovered for the world to appreciate. What makes John Blofeld's memoir so uniquely special is the man himself, who, as international traveler, sinologist, translator, and scholar embodied the perfect balance of Yin and Yang; an ideal synthesis of the meeting of East and West."
— Chungliang Al Huang, author of Embrace Tiger, Return To Mountain and founder of the Living Tao Found

"The discovery of a missing manuscript of Mozart could not bring greater joy than John Blofeld's memoir of his journey through a China that is barely visible nowadays but brought to life once more in this most welcome translation. To read this book is to travel again with this marvelous man on the path he walked so well: the path of the translator, the path of the pilgrim, the path of a stranger in a strange land. The bodhisattvas must be singing."
— Bill Porter (Red Pine), translator and editor of The Collected Songs of Cold Mountain

"When all is said and done, we owe Daniel Reid a great debt for translating this wonderful travel journal. . . . although 'mystic' appears in the title, this is not really a magical mystical tour and you won't get any tidbits about finding your bliss, so to speak. You basically find what a well-lived life can be like."
— Robert Figler, Ph.D., Journal of Asian Martial Arts, Vol. 17 No. 3

"It is fitting that Daniel Reid, whose writings have done so much to bring profound dimensions of Chinese medical, scientific, spiritual, and meditative wisdom to English language readers, has translated this book."
— Reg Little, New Dawn, No. 110, Sep/Oct 2008

" The book is not, strictly speaking, a history of the 1930s and 1940s in China, but for readers looking to gain a deeper understanding of that period, the book will prove quite valuable. It will also be useful to those wishing a deeper understanding of pre-communist Chinese religion and culture, as well as to casual readers who are simply seeking an engaging informative book about China during its early republican period."
— Elizabeth Redkey, MultiCultural Review, Vol. 17, No. 4, Winter 2008

"A vivid portrait of this lost land . . . of interest to any Chinese history enthusiast."
— The Midwest Book Review, Aug 2008

"The book reads like a charming account from a long-forgotten era, and that is precisely what it is. Blofeld gives a detailed and scintillating portrait of ancient China, still extant when he lived there--a culture that was highly stratified and regimented, and included the virtues of always welcoming 'guests from afar' such as Blofeld himself, who made a comfortable niche for himself by being the perfect visitor."
— Curled Up with a Good Book, June 2008