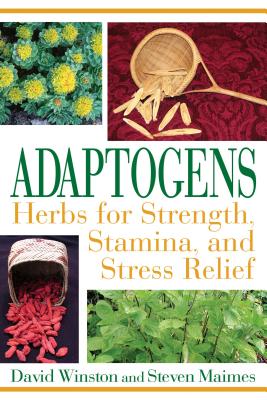 Adaptogens (Paperback)
Herbs for Strength, Stamina, and Stress Relief
Healing Arts Press, 9781594771583, 336pp.
Publication Date: March 22, 2007
* Individual store prices may vary.
Description
The definitive guide to adaptogenic herbs, formerly known as "tonics," that counter the effects of age and stress on the body

• Reveals how adaptogens increase the body's resistance to adverse influences

• Provides a history of the use of these herbal remedies and the actions, properties, preparation, and dosage for each herb

We all deal with stress every day, and every day our bodies strive to adapt and stay balanced and healthy. In Adaptogens, authors David Winston and Steven Maimes provide a comprehensive look into adaptogens, non-toxic herbs such as ginseng, eleuthero, and licorice, that produce a defensive response to stress in our bodies. Formerly known as rejuvenating herbs or tonics, adaptogens help the body to "adapt" to the many influences it encounters. They increase stamina and counter the normal effects of aging and thus are becoming important tools in sports medicine and in the prevention and treatment of chronic fatigue and other stress-related disorders.

Winston and Maimes present the historical uses of these herbal remedies in India, Russia, China, and the Americas and explain how they work and why they are so effective at combating stress-induced illness. Monographs for each adaptogen also present the latest scientific research and include the origin, traditional use, actions, properties, preparation, and dosage for each herb.
About the Author
David Winston, RH(AHG), is an herbalist and ethnobotanist who has practiced Cherokee, Chinese, and Western herbal medicine since 1969. He is the president of Herbalist and Alchemist, Inc., a company that manufactures over 300 herbal products, author of Herbal Therapeutics and Saw Palmetto for Men & Women, and coauthor of Herbal Therapy and Supplements and Adaptogens. He lives in Bucks County, Pennsylvania.

Steven Maimes, the former owner of an herbal products business in the San Francisco Bay Area, is a researcher, freelance writer, and principal of SALAM Research in Rochester, New Hampshire.
Praise For Adaptogens: Herbs for Strength, Stamina, and Stress Relief…
"Adaptogenic herbs can be most useful in the quest for health in our stressful society. David Winston and Steven Maimes explain and champion the use and benefits of these important herbs."
— James A. Duke, author of The Green Pharmacy

"This is a much needed book, an important update to the materia medica of North America, and constitutes important continuing education on a wide variety of new herbs entering into the North American herbal marketplace."
— Paul Bergner, Medical Herbalism, Winter 2007

"It's about time a book took on the subject of immune herbs, and this one does an excellent job of explaining why they are so effective at combating stress-induced illness. The text is very easy to read and understand, but still contains the latest scientific research, all well referenced."
— American Herb Association, Vol. 23:1, April 08

"Brilliant! Fully researched, full of information not readily available, as well as being practical and easy to digest. The authors have managed to blend the traditional and recent scientific information into a fully comprehensive and informative text. This will become a classic, a definitive work on this most important group of medicinal plants."
— Rosemary Gladstar, founder of United Plant Savers and author of Herbal Healing for Women

"Essential reading for all involved with adaptogens, whether practitioners or consumers. This is the first comprehensive guide to adaptogens based on good herbalism, good science, and NO hype! A truly excellent book."
— David Hoffmann, BSc, FNIMH, author of Medical Herbalism and Herbal Prescriptions after 50

"With Adaptogens, David Winston and Steven Maimes have finally made this important healing concept accessible to a wider audience. We need adaptogens--gentle remedies that, over time, have the powerful effect of restoring and protecting our health on many levels. David Winston's vast clinical and practical knowledge of herbs adds tremendously to the value of the book."
— Christopher Hobbs, author of Handmade Herbal Medicines and Natural Therapy for Your Liver

"There is so much valuable information packed into this volume that I am grateful to have my own copy and will keep it close by as a very handy reference"
— Marjorie Tietjen, Price-Pottenger: Journal of Health and Healing, Volume 34 / Number 2, September 20
or
Not Currently Available for Direct Purchase