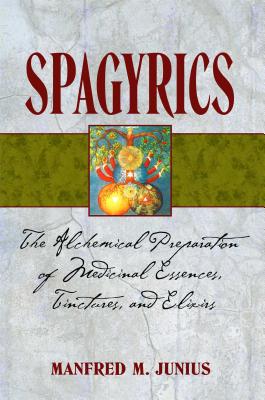 Spagyrics
The Alchemical Preparation of Medicinal Essences, Tinctures, and Elixirs
Paperback

* Individual store prices may vary.
Description
A comprehensive alchemical guide to plant extractions and their health benefits

• Shows how spagyric methods "open" medicinal plants completely to release powerful healing properties

• Provides a history and philosophy of spagyrics that reveal why Western medicine fails to recognize the full benefit to health offered by plants

• Connects spagyrics to classical alchemical, hermetic, and ayurvedic traditions

The practice of spagyrics is the application of ancient alchemical working methods to the preparation of tinctures, essences, and other products from medicinal plants. While ordinary tinctures and infusions use only a part of the great curative potential of plants, spagyric methods "open" medicinal plants completely to reveal their more powerful healing properties. Drawing on the rich imagery and symbolism of ancient source materials, Manfred M. Junius describes these methods in great detail, showing readers how to prepare plant remedies alchemically for their own use as well as imparting a knowledge of the ideological world in which alchemistic and hermetic thought flowered. Spagyrics includes the Plant Magistery of Paracelsus and the Life Elixir recipe of Andreas Libavius among its historic techniques as well as a wealth of scientific information that demonstrates the greater efficacy of alchemical methods of plant essence extraction. This classic source text preserves the nearly forgotten but highly valuable methods of this true hermetic art for preparing natural remedies.
Praise For Spagyrics: The Alchemical Preparation of Medicinal Essences, Tinctures, and Elixirs…
"Simply put, this is a classic text on plant alchemy, or spagyrics, for the modern practitioner. . . . Anyone serious about learning alchemy needs to have a copy."
— Mark Stavish, director of the Institute of Hermetic Studies and author of The Path of Alchemy

"What makes Junius's book so special is that it is a practical primer on the subject. Traditional methods are presented as well as more modernized suggestions, but all within the strict confines of tradition. . . . Highly recommended."
— Cauldron Brasil, May 2007

If you've always been curious about the real nature of alchemy, this book will help you in that search. If you are looking for more holistic ways to heal, this book will supply many thought-provoking guidelines. It will be cherished by those already familiar with the subject matter, and represents a bold undertaking by its author."
— Barbara Bamgerger Scott, Curled Up With a Good Book, Oct 2008

"The word means 'to draw out' and 'divide,' a basic principle of alchemy. The techniques date back at least to Paracelsus and have been said to release powerful healing properties from plants."
— The American Herb Association, 24:4, February 2010
Healing Arts Press, 9781594771798, 288pp.
Publication Date: February 16, 2007
About the Author
Professor Manfred M. Junius (1929-2004) served as the production manager for spagyrics for Australerba Laboratories and was head of the Australian School of Ayurveda in Adelaide, Australia. His Western alchemical knowledge was obtained through many years of personal instruction from Augusto Pincaldi in Switzerland.