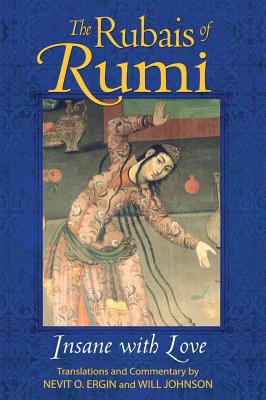 The Rubais of Rumi (Paperback)
Insane with Love
Inner Traditions, 9781594771835, 224pp.
Publication Date: July 17, 2007
* Individual store prices may vary.
Description
The first English translation of the rubais of Rumi

• Presents 233 of the most evocative of Rumi's 1,700 rubais

• Shows that the mystical embrace is the way to directly experience the Divine

Rumi is well known for the over 44,000 verses that appear in a 23-volume collection called the Divan-i Kebir. Yet Rumi also composed 1,700 rubais, short aphorisms and observations, whose depth and message belie their brevity.

The form of rubais first became well known through the 11th-century collection The Rubaiyat of Omar Khayyam. But unlike Khayyam, who like most poets would sit and carefully craft each word, Rumi would compose and speak his poems through the spontaneous "language of poetry" that poured from his lips as he traveled the streets of Konya, Anatolia (present-day Turkey). Very few of Rumi's rubais have been translated into any of the languages of the contemporary Western world. Now, Nevit O. Ergin, the translator of the complete Divan-i Kebir, and Will Johnson present here 233 of the most evocative of Rumi's 1,700 rubais.

Rumi's poetry expresses profound and complex truths in beautiful yet simple language. He reveals that by going deep into the interior of our heart and soul, we can arrive at a place in which we once again merge and connect with the divine. This mystical quest, Rumi contends, is the birthright of us all. Anything less than a complete dissolving into the world of divine union will not provide the satisfaction and peace that we all seek. The simple, yet profound spiritual truths and visions contained in The Rubais of Rumi lead the way to the path of reconnection to the direct energies of God.
About the Author
Nevit O. Ergin (1928-2015) was the original English translator of the complete Divan-i Kebir and the coauthor, with Will Johnson, of The Forbidden Rumi and The Rubais of Rumi. In 1955, he became an initiate in the Itlaq ("total liberation") path of Sufism under the tutelage of Sufi master Hasan Lutfi Shushud.

Will Johnson is the founder and director of the Institute for Embodiment Training, which combines Western somatic psychotherapy with Eastern meditation practices. He is the author of several books, including Breathing through the Whole Body, The Posture of Meditation, and The Spiritual Practices of Rumi. He lives in British Columbia.
Praise For The Rubais of Rumi: Insane with Love…
"Nevit Ergin's lifelong work on the poetry of Rumi is beautiful and heroic and, for the English reader, indispensable. Will Johnson's insightful commentary is also much appreciated."
— Coleman Barks, author of Rumi: We Are Three and Rumi: Bridge to the Soul

"Nevit Ergin is translator of Rumi's 44-volume set and he and Will Johnson together present over two hundred of Rumi's best rubais, making this a recommended pick for any collection strong in Rumi wisdom."
— The Midwest Book Review, Oct 2007

"Thanks to these translations and commentary, this work of such beauty and depth, has become accessible and understandable to the modern world. . . . These rubais, perused even at random, evoke deep emotions and contemplation, arousing awareness of pre-existing, simple truths of life, leading to unification with the Divine."
— Sheela Bhojwani, East and West Series, Vol. 50, No. 3, March 08