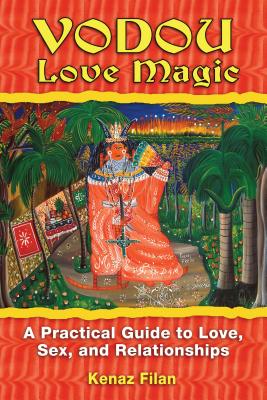 Vodou Love Magic (Paperback)
A Practical Guide to Love, Sex, and Relationships
Destiny Books, 9781594772481, 200pp.
Publication Date: January 26, 2009
* Individual store prices may vary.
Description
A working guide on how to find love and sexual fulfillment by working with the lwa, the spirits of Haitian Vodou

• The first book on wanga (love magic) by an actual Vodou initiate

• Provides spells and spirit work for many different problems associated with affairs of the heart

• Spells included are detailed and easy to follow

Haitian Vodou, like other folk traditions, is an eminently practical craft. Vodou practitioners see their relationship with the lwa--the spirits honored in Haitian Vodou--as mutually beneficial rather than one-sided. In return for sincere offerings, the lwa are happy to provide protection and support in dealing with life's problems--which more often than not concern love.

In Vodou Love Magic, Kenaz Filan details the myriad aspects of love and sex governed by the different lwa and explains what services each can provide in attaining fulfilling relationships--and who will likely offer the best wisdom for your needs. If you are having trouble meeting people, Legba's Opening the Door spell can resolve this difficulty. If you wish more fire in a relationship, then you should work with the warrior spirit Papa Ogou. Filan presents easy-to-follow instructions for numerous love spells and also reveals how the lwa offer counsel for dealing with ending relationships, toxic behavior patterns like codependency, or romantic triangles.

Vodou Love Magic does not provide a magic genie who will fulfill every wish, but it does offer access to a team of spirits who can help transform dreams into realities.
About the Author
Kenaz Filan (Houngan Coquille du Mer) was initiated in Société la Belle Venus in March 2003 after 10 years of solitary service to the lwa. Filan is the author of The Haitian Vodou Handbook, Vodou Love Magic, and Vodou Money Magic and coauthor of Drawing Down the Spirits. A frequent contributor to PanGaia, Planet Magazine, and Widdershins, Filan is the former managing editor of newWitch magazine and lives in Short Hills, New Jersey.
Praise For Vodou Love Magic: A Practical Guide to Love, Sex, and Relationships…
"Kenaz Filan presents a wonderfully sane, mature, and effective approach to Vodou love magic with the intelligence and worldliness that are all too often lacking in this area of practice. Added bonus: it's polyamory-friendly."

"Far more than just another book of love spells, Vodou Love Magic encourages readers to utilize common sense, emotional awareness, and psychological self-evaluation. Brimming with history, honesty, and experience, this is a book for anyone wishing to deepen the relationship with the self, others, and the ancient ones."

"Self love and inner strength are far more important than anything you will get out of a relationship, and I believe this text can help to enforce that upon magickal practitioners."

"Did you ever wish that your heart came with an owner's manual? Well, this is it. Kenaz Filan explains how relationships work, how to form them, and how to fix them when they're broken. Vodou Love Magic is a practical yet entertaining manual for romantic fulfillment, ideal for practitioners of Afro-Caribbean magic and also suitable to people new to the tradition. Most highly recommended."

"Vodou Love Magic is a seductive velvet hammer. It is both a primer filled with practical advice on relationships and a luscious, fun-to-read book that gives the reader the straight dope on magick and spirit work."

"Readers tired of the usual dating avenues--websites, bars, reality television--may want to check out this compilation of Haitian Vodou love spells. . . . to borrow from another tradition, lwa often help those who help themselves."

"Love spells and counseling for changing toxic behavior patterns pack an excellent survey perfect for new age libraries."

". . . the book includes very useful and crucial information on love and relationships themselves. Rather than promising to get your lover back, Filan offers a plethora of troubleshooting information to try before doing spellwork . . . Good stuff all around."
or
Not Currently Available for Direct Purchase