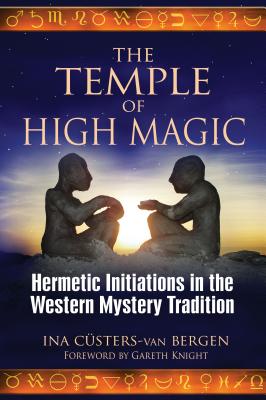 The Temple of High Magic
Hermetic Initiations in the Western Mystery Tradition
Paperback

* Individual store prices may vary.
Description
A practical guide to pathworking and other esoteric techniques from the ancient mystery schools predating Christianity

• Explains the dynamics of both group ritual and solo practice

• Shows that temples of high magic are not mere physical structures but inner edifices created by sustained meditative practice

• Explains why this practice is sometimes called the Yoga of the West

Before the advent of Christianity, early civilizations had, at the heart of their spiritual traditions, mystery schools that offered a corpus of training methods in what is now called magic. The persecution of heresies that followed the establishment of Christianity as Rome's state religion, a persecution that reached its high point during the Middle Ages, forced the degradation and disappearance of this training system. While the knowledge of these mystery traditions--jealously guarded by secret societies--has begun to emerge, the actual techniques and practices of spiritual magic have remained hidden.

The Temple of High Magic provides the practical knowledge of these techniques for modern spiritual seekers who wish to incorporate the proven esoteric techniques of the magi into their lives. This book explains the dynamics of group ritual and solo practice as well as the critical role played by the kabbalistic tree of life--the key to inner knowledge. Ina Cüsters-van Bergen shows that temples of high magic are not mere physical structures but are the inner edifices willed into being by a sustained meditative practice and pathworking, using key symbols from ancient Hebraic and Egyptian traditions. Sometimes called the Yoga of the West, this spiritual magic is a system of esoteric development that seeks to create full union between the magician and the divine.
Praise For The Temple of High Magic: Hermetic Initiations in the Western Mystery Tradition…
"The Temple of High Magic was described in 'Wiccan Rede, Beltane 2007'as an 'impressive book written by a lady who has earned respect as an expert in the field of esotericism and mystery traditions in the Netherlands.' This book, now available in English, will impress English-speaking readers by its compactness and clarity. Dealing with a large range of subjects regarding the Western Mysteries, Ina has also included Pathworkings/guided visualizations and rituals making this not only a compendium but also a practical workbook. Highly recommended for everyone who is interested in (modern) Mystery religions."
— Morgana, cofounder of Silver Circle Magazine and coordinator of the 2009 Pagan Federation Internatio

"This book will undoubtedly be regarded as the defining text for a solid basis in ceremonial magic. It offers a thorough explanation of what it really takes to open and enrich yourself with inner work. It is loaded with background information, methods, and techniques you can immediately use to practice. Ina Cüsters-van Bergen explains how you can reach a new and much higher level. She gives the answer of how to structure your magical practice so that you get the full benefit of your efforts. I fully endorse this book and the teaching it offers."
— GardenStone, author of Germanische Magie [Germanic Magic]

"The Temple of High Magic is a must-have book for those who want a clear insight of the modern magical path, either as seekers or those who have been traveling this road for some time. Rather than concentrate on just basic methods, it takes the student through an evolution of ever more advanced magical work."
— Nick Farrell, author of Magical Pathworking

"The first thing that touched me was the pleasurable and clear style of writing from the author. On top of this I ascertained her true competence and expertise about this subject. Finally there is a competent and reliable guide that can help us obtain insight into the Western Mystery Tradition. I recommend this book wholeheartedly."
— Daniel van Egmond, Ph.D., Dutch mystic and Kabbalist

"This book is really a must for everyone who wants to start a practical, theoretical, and historic study in the Western Mystery Traditions, Hermetism, Wicca, Magic, and Kabbalah. Ina Cüsters-van Bergen explains in clear words how ceremonial magic works and through the many exercises and Pathworkings the students will reach deeper knowledge in their inner worlds."
— Anneke Huijser, owner of the metaphysical and esoteric bookshop in the Netherlands

"The Temple of High Magic offers a clear and serious perspective on the work of the author's school, the Temple of Starlight. We get to know what magic--more specifically spiritual magic--is. Ina Cüsters-van Bergen successfully uses the alchemical language as a symbolic language pointing toward inner transmutations."
— John van Schaik, religious historian

"Ina Cüsters-van Bergen is able to elucidate complicated and ambiguous concepts. The manual you were always looking for has finally arrived."
— Joke and Ko Lankester, Wiccan High Priests, authors of De Kringloop van het Leven [The Cycle of Life

"The Temple of High Magic is an important work from someone who has earned her credits in the Mystery Tradition. It is a book of great size, which treats the extensive range of the Western Mystery Tradition without loosing clearness."
— Merlin Sythove, Gardnerian witch

"Obviously I'm no expert on the Western Esoteric traditions, because let's face it, I'm not an expert on anything, but I will dare say that this is the best introduction to the subject matter I've ever seen, or possibly that's ever been published. . . . Bergen's book thoroughly answers the questions, "What are the Western Esoteric traditions all about?". . . . Bergen covers the roots that feed into the current practice of Mystery Traditions today, explains the significance of temples, tools, and robes, covers Tree of Life basics, Chakras, features loads of exercises and rituals, and more, more, more! . . . . buy this book and then buy a second copy to give to anyone you know with even a passing interest in the Western Esoteric Traditions."
— The Magical Buffet, August 2010

". . . the author has brought together a fusion of the art and the science of Magic at a high level, clearly based on her years of experience, yet with a light of touch, authoritative yet humane. . . . Congratulations to the translator too! I would recommend this book to seekers and initiates alike."
— Inner Light Magazine, UK, August 2010

"The Temple of High Magic provides the spiritual seeker with the practical knowledge and techniques used in ceremonial magic based on the Jewish Cabbala, Hermeticism and the Ancient Egyptian magical tradition."
— The Cauldron, September 2010

"Well cited, reference, and inclusive of a sufficient glossary for all but the complete novice. A welcomed treatise in the library of any occultist, magician, herbologist, horticulturalist, and historian alike. This tome will peak your interests, inspire your creativity, and challenge your perspicacity. A hearty concentration of and contribution to the Great Work! Enjoy."
— Kris Kulish, Behutet, February 2011
Destiny Books, 9781594773082, 400pp.
Publication Date: March 9, 2010
About the Author
Ina Cüsters-van Bergen is the head of the Hermetic Order Temple of Starlight and was initiated by Dolores Ashcroft-Nowicki. She lives in the Netherlands and gives lectures and workshops throughout Europe.

Gareth Knight has spent a lifetime unearthing and teaching the principles of magic as a spiritual discipline and method of self-realization. He was trained in the esoteric school founded by Dion Fortune and has been actively involved in the Western magical tradition since the early 1960s. He is the author of thirty books, including Tarot and Magic, A Practical Guide to Qabalistic Symbolism, and Magic and the Power of the Goddess. He lives in England.
or
Not Currently Available for Direct Purchase