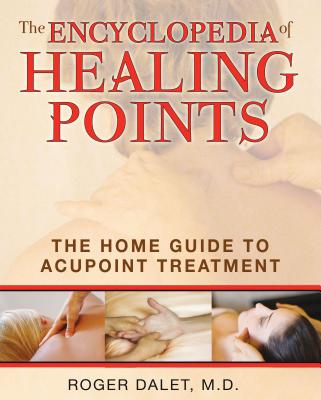 The Encyclopedia of Healing Points
The Home Guide to Acupoint Treatment
Paperback

* Individual store prices may vary.
Description
A complete home health guide for treating more than 150 common illnesses with the stimulation of acupressure points

• Provides treatment points for conditions ranging from diabetes and heart problems to insomnia and stage fright

• Offers a safe and effective alternative, or supplement, to standard allopathic medical treatment and pharmaceuticals

A safe and effective technique for finding relief from pain and illness--be it a cold or flu, asthma or arthritis--is, quite literally, right at your fingertips. We have all experienced how the simple power of touch can bring such comfort and relief. Massaging specific healing points used in acupressure directs this powerful energy in a way that stimulates the body's own natural healing ability.

Illustrated in full color, The Encyclopedia of Healing Points presents a complete guide for treating more than 150 diseases and disorders--from chronic conditions such as arthritis, diabetes, and heart problems to more minor problems such as tinnitus, insomnia, and stage fright. Each treatment protocol includes Dr. Dalet's guidance on how acupressure can best help the situation--whether it is capable of completely curing a condition or whether it should be used in conjunction with other healing modalities. A valuable resource for any home, the acupressure treatments presented in this book can provide immediate relief to pain and injuries as well as be used preventively. Most important, they offer an effective method of self-care and a way to provide comfort and relief to ailing loved ones--especially the delicate immune systems of children.

In addition to the commonly known and prescribed acupressure points, Dr. Dalet includes important new acupoints discovered by contemporary Chinese medical researchers that address ailments resulting from our more sedentary lifestyles and use of computers, such as obesity and eye strain. He also recommends the most effective options for stimulating the points, including devices for electrical stimulation.
Praise For The Encyclopedia of Healing Points: The Home Guide to Acupoint Treatment…
"I am pleased to recommend Dr. Roger Dalet's The Encyclopedia of Healing Points for three good reasons. First, it is truly comprehensive, earning the ambitious title of 'Encyclopedia.' Second, it is extremely well organized and user friendly. Third, the information provided is trustworthy. It is true to both traditional Chinese medicine and contemporary energy medicine. This book is a tremendous resource."
— Donna Eden, author of Energy Medicine

"Dr. Dalet's impressive work is a major contribution to the lay person's understanding of holistic medical care. Its strong points include concise explanations of the causes of diseases and dysfunctions, helpful distinctions between acute and chronic conditions, easy-to-use organization, and the combination of diagrams and photos to aid in precisely locating acupoints for treatment. The Encyclopedia of Healing Points sits high on my shelf of essential resources for maintaining and enhancing health."
— Mary Bond, author of The New Rules of Posture

" . . . a tremendous resource for any bodyworker or practitioner. The content is written in lay terms and is concise, understandable, and addresses common issues."
— Irene Watson, Reader Views, September 2010

"For anyone who wants a thorough guide to this brother practice of acupuncture, The Encyclopedia of Healing Points is a fine resource, not to be missed."
— James A. Cox, The Midwest Book Review, November 2010
Healing Arts Press, 9781594773358, 288pp.
Publication Date: August 20, 2010
About the Author
Roger Dalet, M.D., is a renowned acupuncturist in France and is a doctor on staff at several hospitals. He has written a number of books on this subject, including several translated into English. He lives in France.