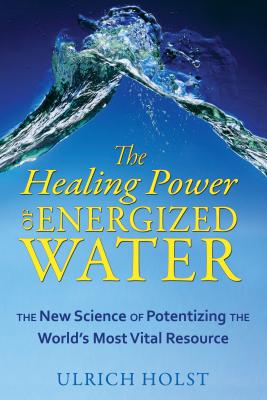 The Healing Power of Energized Water
The New Science of Potentizing the World's Most Vital Resource
Paperback

* Individual store prices may vary.
Description
An introduction to the biotechnologies of water vitalization

• Reveals the deeper secrets of the element water including its memory

• Shows the practical applications founded on the work of such pioneers of water research as Viktor Schauberger, Theodor Schwenk, and Masaru Emoto

• Looks at water dynamization devices currently available commercially

Water is more than the simple liquid evoked by its scientific name H2O. The discoveries by pioneering figures like Viktor Schauberger and Masaru Emoto have shown that this essential substance is much more complex than originally believed. Water is incredibly sensitive to the micro-information from the surrounding environment and it also possesses a memory. Unfortunately, many of the modern techniques for making water readily available have resulted in depreciating its vitality. Many of the benefits that water can provide when in its optimum natural state have been lost.

But there are now methods that have been perfected over the past several decades that can transform our banal tap water back to its natural potent state as the elixir of life. Experience has shown that these methods and devices can even transform water that has been heavily polluted by agriculture or industry into a potable fluid that looks like the product of a limpid mountain spring. Tests show that no trace of the pollutants remain. Many of these devices are available commercially, offering to all the possibility of enjoying the optimum benefits water can deliver when in its healthy, natural state.
Praise For The Healing Power of Energized Water: The New Science of Potentizing the World's Most Vital Resource…
"If the quantity of water we drink is essential for health, so is its quality. Ulrich Holst tells us what high-quality water really is and shows easy ways of obtaining it. A superb guide for everyone who is not happy with their tap water."
— Christopher Vasey, N.D., author of The Acid-Alkaline Diet for Optimum Health

"For a more scientific overview of water, how it sustains life, and why it's important to purify and conserve it, pick up German water expert Ulrich Holst's book (The Healing Power of Energized Water). . . "
— The Sierra Club, August 2010

"The Healing Power of Energized Water informs, inspires, and teaches the reader how to harness the amazing power of water for true life and ultimate health."
— Barbara Cronin, HealthyNewAge.com, September 2010

"For those interested in learning more about water and the cutting-edge experimentation into various means of improving its condition and effects on us, this book makes fascinating reading."
— Metaphysical Buyer's Guide, October 2010

"In this enormously useful book, Mr. Holst has taken information on water energizing to a new, practical level . . . "
— Jennifer Hoskins, New Dawn Magazine, November 2010
Healing Arts Press, 9781594773389, 160pp.
Publication Date: April 14, 2010
About the Author
Ulrich Holst is an expert in water vitalization who counsels private consumers and businesses in how to enhance their daily water utilization. He lives near the North Sea in Germany.
or
Not Currently Available for Direct Purchase