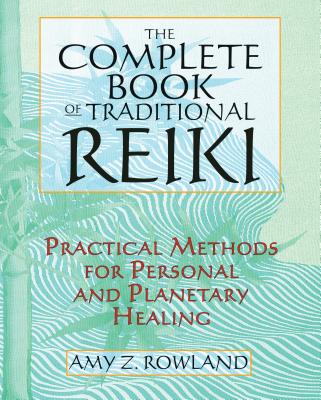 The Complete Book of Traditional Reiki (Paperback)
Practical Methods for Personal and Planetary Healing
Healing Arts Press, 9781594773518, 288pp.
Publication Date: June 14, 2010
* Individual store prices may vary.
Description
A comprehensive guide to the hands-on healing techniques taught to practitioners in a traditional Reiki I class

• Discusses Reiki's origin and purpose, the attunement process, and the many physical and emotional states for which Reiki can provide healing support

• Includes step-by-step photographs of the basic hand positions

Reiki practitioners direct universal energy into the physical body through hands-on and energy-field healing to support the client in recovering health and reclaiming well-being. An easy-to-learn form of energy medicine, Reiki is becoming commonplace in such conventional settings as hospitals, hospices, and psychotherapy practices because it relaxes, relieves stress, reduces and eliminates pain, accelerates healing, and helps support the gentle restoration of the body's natural balance. It is a unique healing art in that it can be learned by anyone, with no special knowledge of anatomy needed.

The Complete Book of Traditional Reiki takes the reader step by step through a traditional Reiki level I class. It discusses Reiki's origins and purpose, describes the attunement process by which a student is imbued with the power to channel life-force energy, and gives complete instructions for the basic and advanced healing hand positions. The first book to serve as a teaching manual, an extensive reference work for students, and compelling reading for those considering taking a Reiki class, this updated edition includes new information on the history of Reiki and the Reiki principles and features never-before-published photographs and a translation of the Usi Memorial in Japan, a tribute to the founder of Usui Reiki.
About the Author
Amy Z. Rowland is a certified Usui Reiki Master with more than 30 years of experience. She has taught the Western tradition of Reiki (Usui Shiki Ryoho) since 1994 and also teaches workshops on the Reiki principles and on Reiki and intuition. She is a certified hypnotherapist and has worked as a clinical therapist. The author of The Complete Book of Traditional Reiki, Traditional Reiki for Our Times, Intuitive Reiki for Our Times, and Reiki for the Heart and Soul, she lives in Pennsylvania.
Praise For The Complete Book of Traditional Reiki: Practical Methods for Personal and Planetary Healing…
"The Complete Book of Traditional Reiki offers a comprehensive foundation for beginners and seasoned practitioners alike. Amy Rowland has presented a lucid and straightforward presentation of the Reiki teachings that will serve any sincere student and prove to be a constant source of inspiration for a lifetime of practice. I highly recommended it!"
— Lawrence Ellyard, author of Reiki Meditations for Beginners and Reiki: 200 Questions and Answers for

"Amy Rowland's book is an engaging story of discovery, which has been a pleasure to read. Contains well-researched knowledge of Reiki's origins and reveals practical and metaphysical insights into its use and effectiveness today."
— Chris Parkes and Penny Parkes, Reiki Masters and coauthors of 15-Minute Reiki

"I am delighted to recommend this concise, enlightening, and thoroughly enjoyable book by Amy Z. Rowland. It is a definite "must have" for any serious student of alternative healing techniques, but also for those wishing to understand the essence of spiritual energy, Prana, Chi or Qi, as it is better known."
— Lesley Crossingham, New Dawn Magazine, January 2012