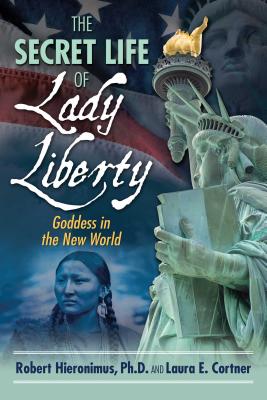 The Secret Life of Lady Liberty
Goddess in the New World
Paperback

* Individual store prices may vary.
Description
The goddess origins of the Statue of Liberty and her connections with the founding and the future of America

• Examines Lady Liberty's ties to Native American spiritual traditions, the Earth Mother, Roman goddesses, Black Madonnas, and Mary Magdalene

• Reveals the sharp contrast between depicting "liberty" as a female and the reality of women and other suppressed classes even today

• Explains how this Goddess of the New World inspires all people toward equality, compassion, peace-keeping, and environmental stewardship

Uncovering the forgotten lineage of the Statue of Liberty, Bob Hieronimus and Laura Cortner explain how she is based on a female symbol representing America on the earliest maps of the continent in the form of a Native American "Queen." The image of a woman symbolizing independence was embraced by the American revolutionaries to rally the populace against the King, filling the role of "Founding Mother" and protector of the fledgling republic. Incorporating Libertas, the Roman goddess of freed slaves, with Minerva, Demeter, Justice, and the Indian Princess, Lady Liberty is seen all over the nation's capital, and on the seals and flags of many states.

Showing how a new appreciation for the Statue of Liberty as the American goddess can serve as a unifying inspiration for activism, the authors explore how this Lady Liberty is a personification of America and its destiny. They examine multiple traditions that influenced her symbolism, from the Neolithic Earth Mother, to Mary Magdalene, Columbia, and Joan of Arc, while revealing the sharp contrast between depicting "liberty" as a female and the reality of women and other suppressed classes throughout history. Their study of "Liberty Enlightening the World" led them to conclude that the empowerment of contemporary women is essential for achieving sustainable liberty for all.

Sounding the call for this "Goddess of the New World" to inspire us all toward peacekeeping, nurturing, compassion, and environmental stewardship, the authors explain how the Statue of Liberty serves as the conscience of our nation and is a symbol of both the myths that unite us and the diversity that strengthens us.
Praise For The Secret Life of Lady Liberty: Goddess in the New World…
"I could not agree more with the premise of this well-written book. I truly believe that more women in positions of power would do much to alter the political landscape for the good. We men seemed to have messed things up. . . . let's give the ladies a chance."
— Graham Nash, of Crosby, Stills, and Nash

"The Secret Life of Lady Liberty is a rich, thoughtful, and fascinating excursion into many of the concepts, ideas, and ideologies that have influenced thoughts of freedom throughout humanity. It examines how we have struggled with various kinds of freedom and have been forced to weigh them against other values. This work of Hieronimus and Cortner is truly a cultural tour de force."
— Barry Moreno, historian at the Statue of Liberty National Monument

"A feminist and multi-ethnic history of the Statue of Liberty is way overdue. This account, which sparkles with insights, evokes the work of Katya Miller on the statue atop the U.S. Capitol dome. Both histories help complete the record. This work, which provides a new lens on our history, is a unique history of rediscovery that I hope will reconfirm our nation's responsibility to foster freedom for all peoples (resisting patriarchy, assisting peace), in the tradition of the Statue of Liberty as a symbol for empowerment."
— Bruce E. Johansen, Ph.D., professor, University of Nebraska at Omaha

"Who would have imagined that you could draw our country's entire history through the iconic image of Liberty gracing the New York Harbor? That's precisely what the authors do in this engaging and well-documented journey through the long-neglected outtakes of our past. The exploration of Native American and feminist history and values, combined with contemporary scientific research, lead us to envision a sustainable future where liberty indeed prevails."
— Sally Roesch Wagner, Ph.D., executive director of The Matilda Joslyn Gage Foundation

"The Secret Life of Lady Liberty ranges through history, biology, mythology, and politics to investigate the meaning--and the power--of the Statue of Liberty; enjoyable to read, stimulating, and sometimes inspiring."
— Elaine Pagels, Ph.D., professor of religion at Princeton University and author of The Gnostic Gospel

"This book is an eye opener! Much of our history has been edited out of what we've been taught, giving us a distorted view not only of our past but of the possibilities for our future. By revealing how the power to give and nurture life symbolized by female figures inspired many of our democratic ideals, this wonderful book enlightens and empowers us at this critical time when we urgently need new ways of thinking about our world."
— Riane Eisler, author of The Chalice and the Blade

"The words on the Statue of Liberty base: 'Give me your tired, your poor, your huddled masses yearning to breathe free . . .' reflect indigenous and feminine values of nurturing, caretaking, welcoming; 'I lift my torch . . .' a symbol of bringing light and consciousness. I marvel at the weave, depth, coverage, and yet readability of this very well-researched book. How wonderful it would be to have a couple of its chapters excerpted into a text for American history, a high school required course."
— Jean Shinoda Bolen, M.D., author of Goddesses in Everywoman

"The Secret Life of Lady Liberty is an in-depth, intriguing, and insightful examination of mythic, spiritual, social justice, and political dimensions of Lady Liberty as Goddess of Freedom and Her connections with other iconic Divine Feminine forms in the USA and beyond."
— Selena Fox, senior minister and high priestess of Circle Sanctuary and founder of the Lady Liberty L

"As the daughter of a Clan Mother, a true matriarch and descendant of those intrepid women leaders of the famed Iroquois Confederacy, I deeply appreciate the work of Hieronimus and Cortner in bringing to light the central role of those we call 'lifegivers.' For those around the world seeking the source of feminism, life, liberty, and justice for all, I highly recommend The Secret Life of Lady Liberty."
— Joanne Shenandoah, Ph.D., Haudenosaunee (Iroquois Confederacy) and Grammy Award--winning singer

"No other figure today exemplifies patriotic esotericism more than Robert Hieronimus--and in this historical feast of a book he and his longtime collaborator Laura Cortner lay out a vision of the meaning, myth, and purpose behind America's most iconic symbol. The authors sweep away conspiracism and in its place leave us with a resplendent vision of the centrality of Lady Liberty in our inner life and ideals as one people united."
— Mitch Horowitz, PEN Award-winning author of Occult America

"This book takes an important step by pointing out that goddess traditions need to be examined and revised for what they can teach us in this age of male domination and the exploitation of nature. Filled with fascinating historical facts and mythological sagas, this work points the way toward an extension of the American Revolution to social and spiritual changes that are crucially needed in the 21st century. This book is rooted in the past but, like the torch of Lady Liberty itself, is a beacon meant to illuminate the future."
— Stanley Krippner, Ph.D., coauthor of Personal Mythology

"There are many books on women's struggle for equality but most of them ignore the actual roots of this worldwide movement. Hieronimus and Cortner set the record straight. This is a remarkable story told with style, humor, and keen insights based upon exceptional scholarship. A new pillar in the study of the struggle for women's rights."
— Douglas George-Kanentiio, Akwesasne Mohawk and vice president of the Hiawatha Institute for Indigeno

The French sculptor Auguste Bartholdi drew on many sources for his creation of the Statue of Liberty, gifted by France to the USA and erected on Liberty Island in New York Harbor, the construction completed in 1886. In his research, Bartholdi visited the USA and came to understand the status of women and their reverence in Native American societies. This is a subject dear to the hearts of Dr Robert Hieronimus and Laura Cortner, long-time associates in alternative radio and authorship (see The United Symbolism of America, 15/05). The authors reveal that when Native American leaders were in peace negotiations with European settlers, they asked "Where are your women?" They already had a goddess culture, and its symbolism along with that of Neolithic, Greek, Roman, British and other models inspired the sculptor to create a Lady Liberty to personify America and her destiny. In fact, in the early days of the colony an American goddess was emerging in public art. The Statue served to embrace the nation and provide a conscience, and its symbolism was taken up by women's suffrage activists and the later feminist movement. This captivating book, with a wealth of archival material, restates the importance of women and their intrinsic roles in peacekeeping, nurturing and environmental stewardship--roles that need to be shared between the sexes.
— Nexus
Destiny Books, 9781594774935, 448pp.
Publication Date: August 22, 2016
About the Author
Robert Hieronimus, Ph.D., is a historian, visual artist, and radio host. His weekly program, 21st Century Radio with Dr. Bob Hieronimus, broadcasts New Paradigm topics across the United States. He lives in Maryland.

Laura E. Cortner has co-authored titles with Robert Hieronimus including Founding Fathers, Secret Societies and United Symbolism of America. Her work appears regularly in periodicals like UFO Magazine, FATE Magazine, and several Beatles publications. She is the director of the Ruscombe Mansion Community Health Center and lives in Maryland.
or
Not Currently Available for Direct Purchase