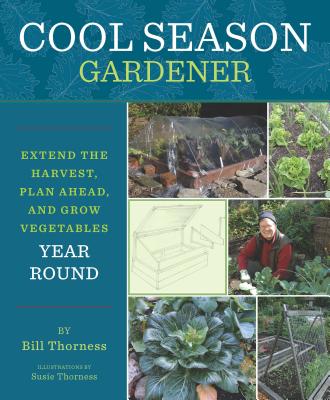 Cool Season Gardener (Paperback)
Extend the Harvest, Plan Ahead, and Grow Vegetables Year Round
Skipstone Press, 9781594857157, 182pp.
Publication Date: March 1, 2013
* Individual store prices may vary.
Description

CLICK HERE to download the chapter with "Steps to Extend Your Growing Season" from Cool Season Gardener
(Provide us with a little information and we'll send your download directly to your inbox)
"Along comes Bill Thorness, beautifully encouraging gardeners to take their edibles to the next level." --
Edible Seattle
* The first wholly new, focused, and comprehensive guide to growing winter crops in the Pacific Northwest and other maritime climates
* Promotes year-round outdoor activity, food and garden sustainability, and a smaller carbon footprint How would you like to serve your own carrots for Thanksgiving next year, or fresh-from-the-garden salad at the winter solstice? Or how about collards for Christmas, leeks on New Year's, and lovely red beets for Valentine's Day, all right from your own garden? You can, without much trouble, by practicing winter, or "cool-season," gardening.
Cool Season Gardener
is longtime gardening writer Bill Thorness's friendly guide to maintaining your garden year-round even in dark, damp, maritime climates. He shows you how to keep the garden in production in cold months, practice succession planning for sowing and transplanting, plant cover crops, utilize homemade garden structures, and more. Even the most avid gardeners might be surprised to learn all the benefits of cool season gardening--the fact that it is often less work than summer gardening due to slower growth and less maintenance, or the seasonal bonus of having fewer pests. Not to mention that year-round gardening will create substantial savings on your food bill, while at the same time yielding fresh, homegrown produce on your table every month of the year. And Thorness wants you to know it's easier than you think