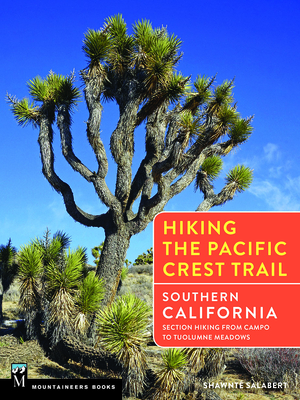 Hiking the Pacific Crest Trail
Southern California: Section Hiking from Campo to Tuolumne Meadows
Paperback

* Individual store prices may vary.
Description

The Pacific Crest National Scenic Trail (PCT) traces a 2,650-mile route from the California-Mexico border north to the border of Washington and Canada. While many hikers attempt a "thru-hike" every year, beginning in Campo, California and connecting their footsteps all the way to Manning Park, B.C., even more people enjoy "section hiking" - tackling the trail in bits and pieces. This guidebook serves as a road map to section hiking the Southern California portion of the PCT, beginning at its southern terminus in Campo and ending 942.5 miles north at Tuolumne Meadows in Yosemite National Park. From the magical cactus gardens of the Mojave Desert to the snowy peaks of the High Sierra, this book covers one of the most biologically and geologically diverse portions of the PCT. Author Shawnt Salabert serves as your personal trail guide along the way, offering informative route descriptions, interesting sidebars, and colorful stories that will deepen your experience on this iconic trail, whether you're headed out for a weekend, a week, or a month. Each volume of this new series focuses on section-by-section pieces of the PCT and includes the following features: - Inspirational full-color guides with over 150 color photographs in each
- Trail sections of 4- to 10-night trips
- Detailed camp-to-camp route descriptions
- Easy-to-understand route maps and elevation profiles
- Details on specific campsites and most-reliable water sources
- Road access to and from various trail sections
- Info on permits, hazards, restrictions, and more
- Alternate routes and connecting trails
- Clear references to the PCT's established system of section letters, designating trail segments from Mexico to Canada--so you can easily cross-reference the guides with other PCT resources
- Key wilderness sights along the way
- Suggested itineraries *Download an errata for Hiking the PCT: Southern California for a profile fix here*
Mountaineers Books, 9781594858802, 324pp.
Publication Date: October 20, 2017