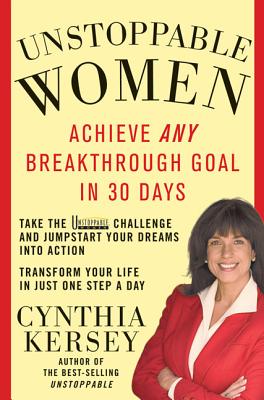 Unstoppable Women
Achieve Any Breakthrough Goal in 30 Days
Paperback

* Individual store prices may vary.
Description
Want to secure a promotion, write a book, go back to school, lose weight, set up a business? Whatever the goal, Cynthia Kersey's new book, Unstoppable Women, can help readers achieve it. Based on the same principles that Kersey has taught in her training programs for such companies as Tupperware®, Mary Kay®, and Jafra Cosmetics®, the book shows how to identify a goal, create a winning mind-set, and break the goal down into daily actions that will lead to success.

Each day, a reader discovers a new characteristic of an unstoppable woman. And for inspiration, she'll read the true story of a woman who possesses this quality. She will then learn how to apply these skills to her own life-creating unstoppable success in just 30 days.
Writing about Kersey's bestselling first book, Unstoppable, Millard Fuller, founder and president of Habitat for Humanity International, said, "It will inspire you to live more passionately and pursue your heart's desire with more conviction. You'll discover how to break through obstacles and get what you want in life."
Praise For Unstoppable Women: Achieve Any Breakthrough Goal in 30 Days…
"Unstoppable Women is a rich and inspirational guide that will support women everywhere in clarifying what they want and developing a concise plan to create it." —Debbie Ford, bestselling author of The Dark Side of the Light Chasers, The Right Questions and The Best Year of Your Life

"To be an unstoppable woman, read Cynthia Kersey's book, from the visionary leader of our time. She shows you the how, the why and the steps to become totally and absolutely unstoppable. You'll be glad you did. " —Mark Victor Hansen, co-author, New York Times #1 best-selling Chicken Soup for the Soul series

"Unstoppable Women is a positively dynamic and inspiring book that will ignite in every woman who reads it a passion to make things happen in her life. This book is an essential read." —Caroline Myss, author of Anatomy of the Spirit, Sacred Contracts, and Invisible Acts of Power

"Unstoppable Women is an invaluable tool for any woman serious about fulfilling her dream." —Jack Canfield, co-author, New York Times #1 best-selling Chicken Soup for the Soul series

"If you're looking for motivation, read this book. The stories of these courageous women will inspire you to be unstoppable!" —Ken Blanchard, coauthor of The One Minute Manager and Customer Mania!

"Unstoppable Women is an exceptional book. The program Cynthia has developed is extremely practical and it's easy to incorporate the process into your life. In no time, you'll be speeding along the path of your dreams." —Robert G. Allen, author of the New York Times bestsellers Nothing Down, Creating Wealth, Multiple Streams of Income, Multiple Streams of Internet Income, and co-author of The One Minute Millionaire

"If you want to be truly inspired, read this book. If you want to transform your life, read this book and complete the Unstoppable Women Challenge!" —Nancy Evans, Co-Founder, iVillage

"Cynthia Kersey is Unstoppable! And, she has written another unstoppable book as a perfect companion publication and complement to her first great book, Unstoppable. Start reading and don't stop until the last page. It will change your life and make you unstoppable too!!" —Millard Fuller, President & Founder, Habitat for Humanity

"Unstoppable Women is a must-read for anybody serious about making their dreams come true!" —Les Brown, author of Live Your Dreams, It's Not Over Until You Win, and Up Thoughts for Down Times

"Cynthia Kersey has created a foolproof process to ensure that every single woman who reads this marvelous book will find the courage, confidence and determination to reach her life's goal, one unstoppable moment at a time. You can't read this book and not move forward." —Gail Blanke, executive coach, motivational speaker, and author of Between Trapezes: Flying into Your Next Life with the Greatest of Ease

"I love this book! Unstoppable Women is a practical and hopeful read to help us identify where we really want to be and how to get us there. So often we feel powerless to create positive change in our lives. Maybe what's missing is the manual of how to get from here to there. This book is it." —Donna Thomases, Organizer, Million Mom March and author of Looking for a Few Good Moms

"If you are serious about changing your life, Unstoppable Women is a must. It will guide and encourage you every step of the way and you are not alone. The women profiled in this book are remarkable in every way and remind you that your life is packed with unlimited possibilities no matter what your circumstances." —Frances Jones, co-Founder, Feed the Children

"Unstoppable Women is a powerful book for helping the reader identify their heart's desire, then develop a plan to make it happen." —Maureen Beal, CEO, National Van Lines

"Unstoppable Women offers readers a virtual "road map" to make a real, positive change in their lives in just 30 days. Cynthia dramatically captures the inspiring stories of courageous and "unstoppable" women and then provides practical steps that can be followed by anyone wanting to make a positive difference in his or her life." —Robert S. Apatoff, President & CEO, Rand McNally & Company

"One thing at a time. "Take small steps. We've heard the expressions before, but in Unstoppable Women, Cynthia Kersey brings them to life by teaching us exactly how to develop our plans for change in small, achievable, daily steps. She encourages us to strive for "progress, not perfection," and to help other women along our way. This book is an invaluable tool for anyone preparing to make changes in her life." —Karen Baar, author of For My Next Act...Scripting Life After Fifty

"Cynthia Kersey offers women the perfect strategy to make the changes in their life they now only dream about." —Jane Velez-Mitchell, television news journalist and correspondent for "Celebrity Justice"

"Finally - a book for and about women that is informational, instructional, inspirational and most of all, moves you to create a compelling new life of your dreams!" —Robin MacGillivray, president of Business Communications Services, SBC Communications West

"Unstoppable Women is as relevant for my teenage granddaughters as it is for me. Any woman can succeed at overcoming challenging circumstances and have unlimited possibilities with this 30 day program that really works. Inspiring and a must read." —Diane V. Cirincione, Ph.D., nationally syndicated columnist of "Your Attitude Is Everything" and co-author of Change Your Mind, Change Your Life

"Unstoppable Women helps women and men discover pathways to empowerment as we gain insight and inspiration from real life models of courage and transformation." —Barnet Bain, producer of What Dreams May Come and The Celestine Prophecy

"Cynthia Kersey has coached our sales team because she delivers results! Unstoppable Women offers a simple yet powerful program that can propel your company to a whole new level! This 30-day program works!" —Dyan Lucero, U.S. President of Jafra

"No matter where you are in life, Unstoppable Women will inspire you with beautifully written stories of courage and provide you with a simple process to change your life, one step at a time." —Regina R. Testa, vice president, Xerox Corporation

"If you have dreams or aspirations, but are frustrated in making them a reality, this book is a must read. Unstoppable Women is motivational and inspirational, but the best news is that it is a practical guide that can help you achieve your goals. The women profiled in this book have remarkable stories and will remind you that you are not alone on your quest." —Monica Luechtefeld, executive vice president, Office Depot
Rodale Books, 9781594861048, 336pp.
Publication Date: April 16, 2005
About the Author
CYNTHIA KERSEY's first book, Unstoppable, has sold more than 200,000 copies in 13 languages. She has been a guest on Oprah and featured in such magazines as O: The Oprah Magazine and Woman's World. Her 2-minute "Unstoppable Moment" radio segment is heard in over 70 markets. President of Unstoppable Enterprises, Inc., and founder of the Unstoppable Foundation, she lives in Thousand Oaks, California.
or
Not Currently Available for Direct Purchase