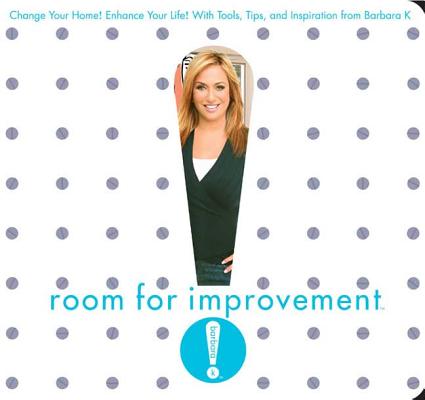 Room for Improvement (Paperback)
Change Your Home! Enhance Your Life! With Tools, Tips, and Inspiration from Barbara K!
Rodale Books, 9781594861338, 288pp.
Publication Date: May 6, 2005
* Individual store prices may vary.
Description
Fix it, replace it, do it yourself--with a little help from Barbara K! The creator of innovative tools, kits, and home accessories now writes an inspirational home improvement guide that empowers women to change their homes and their lives!

Barbara Kavovit (a.k.a. Barbara K!), has skyrocketed to fame with her revolutionary new product line of high-quality do-it-yourself tool kits designed especially for women. The former head of a major New York City construction firm has gone from building skyscrapers to building women's confidence in the home.

Continuing to share her philosophy of Home Improvement--Self-Improvement, Barbara K! has written a do-it-yourself guide that contains the information and inspiration readers need to tackle any room in the home. Here women will find:
o Directions on how to fix anything, from repairing a hole in the wall to stopping the leak in a faucet
o Fast and simple ways to overcome day-to-day household difficulties, from retrieving jewelry from a sink drain to adding more shelf space to a closet
o Do-it-yourself projects that are a fun and empowering way for women to challenge themselves and enhance their surroundings

Barbara K!'s passion, drive, and beautifully designed tools--available in over 10,000 retail stores--have made her a force to be reckoned with in the $250 billion home improvement industry. These stylish decorating ideas and lifestyle solutions will solidify her growing reputation.
About the Author
BARBARA KAVOVIT (a.k.a. Barbara K!) is a young single mom, a New York City businesswoman/entrepreneur, and CEO of Barbara K! Enterprises, Inc., a comprehensive lifestyle brand that offers solutions for women through innovative home repair and improvement products. Launched in May 2003, Kavovit's line of do-it-yourself tool kits, tools, and accessories designed exclusively for women has been so successful that Barbara K! is widely recognized as today's home improvement expert for women.
Praise For Room for Improvement: Change Your Home! Enhance Your Life! With Tools, Tips, and Inspiration from Barbara K!…
"Barbara K, an entrepreneur whose company sells home repair and improvement products specifically for women, speaks to readers with an enthusiastic and encouraging tone, as she shows them how to expand their feelings of self-worth by spiffing up their home's walls, floors, windows, lighting, plumbing and yard. Rather than wait for someone else to fix the clogged drain or install the ceiling pot rack, you can do it yourself, the upbeat author insists, pointing out that this approach includes reaping the extra reward of the feeling of achievement that comes from a job well done. The guide covers basic repair and home decorations, from plastering a hole to painting with stencils; from fixing a leaking faucet to replacing a shower head. Each chapter includes step-by-step instructions, with pithy sidebars and "defining moments," where Kavovit explains terms like "corner bead" and "hollow-core doors." The projects are well organized: a list detailing what readers need for each project, including tools and materials, is followed by numbered instructions that take them through the project, clearly stating and repeating important safety information. Kavovit's guide to home repair replaces intimidation with lighthearted empowerment." —Publisher's Weekly
or
Not Currently Available for Direct Purchase