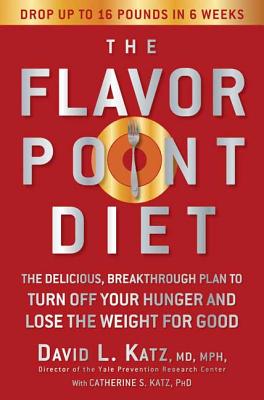 The Flavor Point Diet
The Delicious, Breakthrough Plan to Turn Off Your Hunger and Lose the Weight for Good
Hardcover

* Individual store prices may vary.
Description
The research-proven new diet that enables you to lose weight quickly, safely, and for life—simply by combining foods by the right flavors, at the right time!

From Dr. David Katz comes a groundbreaking diet that maximizes eating pleasure, optimizes health, and guarantees permanent weight loss. And it doesn't require any calorie counting or restrictions on food groups. Supported by scientific research at the Yale Center, this new diet is proven to improve blood sugar, lower blood pressure, and even reverse key markers of diabetes and heart disease!

By combining foods selected by flavor, The Flavor Point Diet tricks the brain into being satisfied all day long, so readers don't eat when they don't need to.

Following "flavor themes," readers will learn how to artfully combine the right flavors and to separate the wrong ones in order to reach the Flavor Point—the moment at which they feel completely full and deliciously satisfied. They'll find it takes less food—and calories—to turn off their brain's appetite center—and they'll enjoy weight loss that will last a lifetime.

With 6 weeks of menu plans, over 100 new recipes and dozens of tools on how to adapt the plan to one's personal taste and lifestyle, here is a complete blueprint for using this scrumptious new method for life.
Praise For The Flavor Point Diet: The Delicious, Breakthrough Plan to Turn Off Your Hunger and Lose the Weight for Good…
"One of the best things about Dr. Katz's program is that I'm changing my overall eating habits. It's not a diet; it's a lifestyle change." —Maureen McGowan (Age 33; lost 17 pounds, waist measurement shrank 4 1⁄2 inches)

"Not only are the recipes really tasty, they're doable for a family. My kids are ages 3, 7, and 11 and they love the foods, especially the fish." —Nancy Schebell (Age 36; lost 16 pounds, waist measurement shrank 7 inches)

"I think the most important thing Dr. Katz taught, which I'll take with me for life, is to examine what I'm eating, to take a box and read every ingredient that I'm putting in my body." —Patty Finn (Age 44; lost 24 pounds, cholesterol dropped 24 points)

"This program has truly changed my life. It's so rewarding to see my cholesterol and triglycerides go down without medication. I know I can stick with this. I've made the change, and this is the way I and my family are going to eat from now on." —Carol Borger (Age 46; lost 20 pounds, cholesterol dropped 54 points)

"The best thing is that I have so much more energy! I used to come home from work and immediately sit down and read the paper. Now I'm bouncing around and doing things. Plus, I've been using my exercise bike for a half hour each day." —Janet Mazur (Age 50; lost 16 pounds, cholesterol dropped 48 points)

"I've been on diets before, but I've never been reeducated like this." —Ron Steeves (Age 55; lost 21 pounds, blood pressure dropped 16 points)

"One of the best parts is that even though I'm losing weight, I feel like I'm eating more food than ever before. I always liked healthful foods . . . but didn't know how to incorporate them into my diet in a realistic way. Now I do." —Lisa Seaberg (Age 30; lost 12 pounds, 8 percent decline in body fat)

"I have lots more energy, and I only expect to get more as the pounds continue to come off. I don't consider this a diet as much as I do a way to eat well." —Jim Butler (Age 39; lost 31 pounds, blood sugar dropped 15 points)

"EIGHT years ago, at the height of the low-carb-diet fervor, my secretary would sit in front of my patients breakfasting on bacon and eggs with no toast or potatoes. After decades of pasta, fiber and fruit, it seemed strange to see bacon and eggs appearing on a dieter's plate, and several of my patients commented on my assistant's choice of food. But she managed to lose weight, followed her cholesterol and maintained that it was a healthy diet.

But who was ever convinced that a high-fat, low-carb diet was healthy?

Well, it seems neither is a low-fat diet. A recent Women's Health Initiative Dietary Modification trial appeared to show that over an eight-year period a low-fat diet not only didn't help older women to lose weight but also didn't cut down on incidences of cancer or heart disease either.

Critics of the study maintained that the subjects' diet wasn't low-fat enough, but the results only reinforced my long-held belief that the healthiest way to lose weight is to exercise regularly, which increases thirst, leading to more water-drinking and less eating.

Let's face it - the reason we Americans are always looking for a quick dietary fix is that we;re part of a sedentary culture of obesity. Many of us are too lazy to sweat off the pounds, and we compulsively fill ourselves with unhealthy foods, compounding the problem.

Dr. David Katz, director of the Yale prevention research center, believes that this unhealthy culture traces its origin to our early school habits.

Speaking last week at the National Governors Association healthy America forum, Katz said, "We take naturally kinetic kids and bolt them to chairs all day long - so that they can grow up to become adults we can't get off couches with crowbars! Let's let them move."

In his thought-provoking new book, "The Flavor Point Diet," Katz advocates exercise while going beyond this to analyze how the appetite hormones of the brain work. Katz examines the seductive aspects of unhealthy diets that lead to our culture of obesity.

Reviewing the medical literature from as far back as the 1970s, Katz describes the crucial concept of sensory-specific satiety, where appetite is shut off when the brain experiences enough of a certain flavor whereas hunger is brought on by a smorgasbord of tastes. "From potato chips and French fries to cookies and ice cream, many foods have become arguably as addictive and, in the long run, nearly as bad for you - as cigarettes. This type of processing raises the Flavor Point. With so much flavor variety, it's almost impossible not to overeat."

Katz is justifiably concerned that too many commercial foods have hidden flavors that stimulate appetite and overeating even while appearing to fill you up. One example is hidden salt in breakfast cereals that tastes sweet.

He wonders whether food companies have decided to deliberately overstimulate the palate to provoke us into buying more of their products.

Since many of us are oblivious to the specifics of flavor, it is helpful that this book goes beyond analyzing outcome in terms of pounds lost and instead provides daily suggestions and dietary guides to counter our bad habits." —Marc K. Siegel , The New York Post
Rodale Books, 9781594861628, 320pp.
Publication Date: December 13, 2005
About the Author
DAVID L. KATZ, MD, MPH, is one of the nation's foremost authorities on nutrition, weight control, and the prevention of chronic disease. He is co-founder and director of Yale's Prevention Research Center, medical correspondent for ABC News, nutrition columnist for O, The Oprah Magazine, and the author of a syndicated health/nutrition column for the New York Times. He lives with his wife, Catherine, and their five children, in Connecticut.

CATHERINE S. KATZ, PhD, is a neuroscientist by training, and has made significant scientific contributions to the area of olfaction and its link to memory and learning. She is also an expert cook whose culinary talents have been featured in O, The Oprah Magazine; Child Magazine; Men's Health; Women's Health & Fitness; and several books.
or
Not Currently Available for Direct Purchase