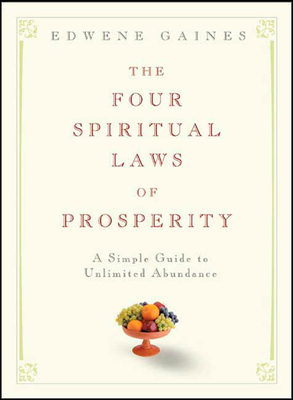 The Four Spiritual Laws of Prosperity
A Simple Guide to Unlimited Abundance
Hardcover

* Individual store prices may vary.
Other Editions of This Title:
Digital Audiobook (8/7/2011)
Compact Disc (8/8/2011)
MP3 CD (8/8/2011)
Compact Disc (8/8/2011)
Compact Disc (8/8/2011)
Description
An empowering message about the true meaning of prosperity—to help anyone achieve a life of spiritual and material abundance.

Imagine if you could achieve a life of true prosperity, enjoying:
- A vitally alive, healthy body through which you experience relationships that are always satisfying and intimate, honest, and nurturing
- Work you love so much that it's not work, it's play
- All the money you can spend

Living at this exceptional level is not only possible—it's right there for you, Edwene Gaines explains, if only you abide by the four spiritual laws of prosperity. Gaines, an ordained Unity minister, has been delivering her inspirational, life-changing message to audiences of all faiths at workshops across the country. Explaining the four spiritual laws, she shows why it is essential to:
- Tithe to the person or place where you have received your spiritual nourishment
- Set clear-cut, tangible goals
- Forgive everyone all the time, especially yourself
- Seek, discover, and follow your divine purpose, which will help you to assign significance to your life and bring a passion to all that you do

The solution to financial problems lies within, Gaines insists, and here she shows you how to raise your abundance consciousness and free yourself from a life of deprivation and want.
Praise For The Four Spiritual Laws of Prosperity: A Simple Guide to Unlimited Abundance…
"In The Four Spiritual Laws of Prosperity, Edwene Gaines blends sacred truths with delightful stories of spiritual principles at work"a masterpiece filled with love, humor, and practical steps for a life more abundant." —John Randolph Price, Best-selling author and chairman of the Quartus Foundation

"Once in a blue moon a book comes along that changes your life forever. Edwene Gaines has written such a book. By the end of the second chapter I made a decision to follow her suggestions. Thanks to her I have taken an essential step in my own spiritual journey by putting God first in my financial life." —John Lee, author of The Flying Boy and Growing Yourself Back-Up

"Edwene Gaines is 'a prosperity pioneer,' the likes of which the world has never seen. After years of lecture work on the subject, she is now sharing with us the results of what her teachings are and the numerous results those who have tried them have gotten. She writes as she lectures--in a straight forward manner with humor. An unbeatable combination! Read, practice, enjoy, and prosper..." —Catherine Ponder

"Edwene Gaines follows in the tradition of Charles Fillmore, Eric Butterworth, and Catherine Ponder with her transforming message of prosperity: 'God wants you to be prosperous.' Beloved throughout Unity--and with good reason--she has touched hundreds of thousands of people with her breakthrough words of encouragement. Here, her straightforward guide lays it all out in a way that can change anyone's consciousness: four laws of prosperity delivered in the affable, endearing style of the one and only Edwene." —Thomas J. Zender, President & CEO, Unity
Rodale Books, 9781594861956, 224pp.
Publication Date: September 3, 2005
About the Author
EDWENE GAINES overcame poverty to live a lifestyle of wealth. She has been an ordained Unity minister for the past 25 years and gives prosperity workshops throughout the United States, speaking as often as 250 times a year. She resides in Alabama.