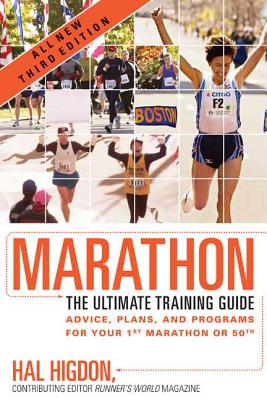 Marathon (Paperback)
The Ultimate Training Guide
Rodale Books, 9781594861994, 384pp.
Publication Date: September 3, 2005
* Individual store prices may vary.
Description
With over 50% new material, this category killer is sure to go the distance

When the previous edition of Hal Higdon's superb training guide appeared, Grete Waitz, 9-time winner of the New York City Marathon, cheered: "Higdon's years of marathoning experience come through in this practical book. Aspiring or veteran marathoners will benefit enormously from its proven guidance."

This new edition focuses on first marathoners, women runners, and those new to the sport; and as always, Higdon shows how to build up mileage and gives advice on running long, speedwork for distance runners, defensive running strategies, and planning for peak performance.
About the Author
HAL HIGDON is among the most respected and widely read writers in the world of running. A senior writer for Runner's World magazine, he also writes the "Ask the Expert" column on the magazine's Web site. He is the author of 31 books, including Run Fast and Master's Running, and a four-time gold medalist at the World Masters Championships. He currently splits his time between Long Beach, Indiana, and Ponte Vedra Beach, Florida.
Praise For Marathon: The Ultimate Training Guide…
"Will get any runner across the finish line of a marathon. I highly recommend it." —Olympic-marathon gold medalist Frank Shorte

"'There's plenty of sound training advice here for runners of all levels,' said Ken Sparks, PhD, who achieved a marathon personal record of 2:28 at age 46." —Ken Sparks, PhD

"According to Runner's World magazine, a first-time marathoner should train at least five days a week, posting weekly mileage of up to 42 miles. Hal Higdon, an 82-year-old fitness guru-he finished fifth in the 1964 Boston Marathon – says it's all about finding the right program. Twenty years ago, he designed one for his son, Kevin, an accountant at Peat Marwick International (now KPMG) who wanted to train 'while working for a demanding firm.' Higdon's corporate-worker-friendly program became a best-selling book, Marathon: The Ultimate Training Guide. It's still used by many professionals, including Illinois Bank of America President Tim Maloney, who Higdon says followed the program while training for this year's race in Chicago. The guide schedules every mile, right down to the walking breaks, without much wiggle room. 'I've had people ask, 'Can I do 5 miles in the morning and 5 during lunch?' Higdon says. 'My response is always, 'well sure, if you can find a marathon that lets you run 13 miles in the morning and 13 in the afternoon.'" —BUSINESSWEEK
or
Not Currently Available for Direct Purchase