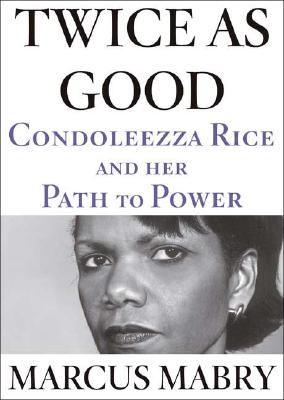 Twice As Good (Hardcover)
Condoleezza Rice and Her Path to Power
Modern Times, 9781594863622, 392pp.
Publication Date: May 1, 2007
Other Editions of This Title:
Paperback (2/5/2008)
* Individual store prices may vary.
Description
Perhaps no American leader is better known and less understood than Secretary of State Condoleezza Rice. Beyond the dramatic story of her past--her ascent from segregated Alabama to the halls of power--and the controversy of her present, little is known about her as a woman, and while she has broken barriers and achieved extraordinary success, she is also one of the most polarizing figures of our time. As an African American girl growing up in the South when the civil rights movement was at its most tumultuous and inspiring, her own views on race are complex. While she has benefited from advances in civil rights legislation and evolving acceptance of blacks, hers has been a singularly individualistic rise, the product of her parents' determination to make her "special."

TWICE AS GOOD: CONDOLEEZZA RICE AND HER PATH TO POWER, is the first biography of Rice to reveal the private woman behind the public image that has become so familiar to people around the world. Bringing his superlative skills as a journalist to bear on this most intriguing of subjects, Newsweek Chief of Correspondents Marcus Mabry chronicles the fascinating story of Rice's life so far, from her childhood in Alabama and Colorado--where she loved ice skating and playing the piano---to her discovery of international affairs at the knee of Madeleine Albright's father Josef Korbel to her role in taking America to war in Iraq. What drove her to the fateful decisions that the United States and the world are now living with? How will history judge her and what awaits her after her service to George W. Bush?

Mabry answers these questions in a deeply nuanced portrait of a driven woman of many contradictions whose power is vast-and still growing...
About the Author
A veteran foreign correspondent and editor, Marcus Mabry is chief of correspondents for Newsweek, overseeing the magazine's domestic and international bureaus. The winner of numerous journalism awards, Mabry is also a former Edward R. Murrow Fellow at the Council on Foreign Relations and author of the memoir White Bucks and Blackeyed Peas: Coming of Age Black in White America. He graduated from Stanford University and studied at the Institut d'Etudes Politiques-Paris. His work has appeared in Foreign Affairs and The New Republic, among many other publications, and he is a frequent commentator on CNN, MSNBC and the BBC's French-language service. He is chairman of The Albert G. Oliver Program in New York, which sends bright minority students to private schools and a governor of the Overseas Press Club. He lives in New York with his partner.
Praise For Twice As Good: Condoleezza Rice and Her Path to Power…
"Marcus Mabry uncovers what has never been shown before, what some suspected didn't exist, the personal Condoleezza Rice. A tour de force!" —Richard Ben Cramer, Author of Joe DiMaggio and What It Takes

"If you think you know superstar Condi Rice, think again, and read this book. Marcus Mabry has dug into her past and present and found someone stronger as a person and weaker as a foreign policy strategist than the usual mythologies. This Condi is pure superhuman steel and a true believer in whatever cause she marries, almost no matter how contradictory the causes. All this is told by a real reporter with old-fashioned fairness." —Leslie H. Gelb, former foreign affairs columnist for The New York Times and President Emeritus of the Council on Foreign Relations

"Marcus Mabry has given us a remarkable portrait of one of the most remarkable figures of our time, or of any time: a woman who rose from the segregated South to command the world stage as America's emissary to the globe. Deeply reported and vividly told, Mabry's new book offers us an indispensable window onto Condoleezza Rice, an American original whose story is far from over. This is a vital work for anyone who wants to understand modern foreign policy and its makers." —Jon Meacham, author of Franklin and Winston: An Intimate Portrait of an Epic Friendship and Founding Fathers

"Twice as Good is a riveting, deeply revealing portrait of the woman who became 'the face of America' around the world - Condoleezza Rice - arguably one of the most powerful, complex and enigmatic black women of our times. With rare access, solid reporting and deft writing, Mabry chronicles Condoleezza Rice's extraordinary strengths, as well as her sometimes surprisingly blinding weaknesses, including her fierce loyalties to those she cares about, including George W. Bush. Marcus Mabry's books may be as close as anyone gets to knowing how a black girl from the segregated South traveled the road not taken and re-drew the map." —Charlayne Hunter-Gault, author of New News out of Africa: Uncovering Africa's Renaissance
or
Not Currently Available for Direct Purchase