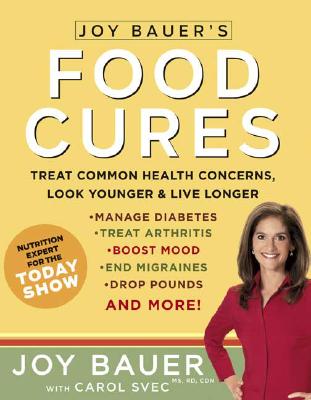 Joy Bauer's Food Cures
Treat Common Health Concerns, Look Younger & Live Longer
Paperback

* Individual store prices may vary.
Other Editions of This Title:
Paperback (8/2/2011)
Description
The ultimate guide to using food as medicine from the Nutrition expert for the Today Show, Joy Bauer.

Nutritional healing has gone mainstream and researchers at top universities are publishing studies that show how the right foods can help prevent, manage, and sometimes entirely reverse the defining symptoms of a wide range of health issues. Whether it's unwanted pounds or high blood sugar, mood swings or digestive trouble, the cure can be what you eat every day.

Now Joy Bauer, a nutrition consultant to celebrities from actors to gold-medal winning athletes, explains exactly what to eat to lower high cholesterol and blood pressure, improve skin tone, sharpen memory, sleep better, and take charge of PMS, arthritis, and more. Each chapter focuses on one of the many conditions that drive people to seek Joy's professional help and simulates a personal consultation. Readers walk away with up-to-the-minute, scientifically researched recommendations on particular foods to seek out and which ones to avoid, plus grocery lists, meal plans, recipes, and supplement recommendations presented in easy-to-follow 4-step prescriptive plans.
Praise For Joy Bauer's Food Cures: Treat Common Health Concerns, Look Younger & Live Longer…
"If you think of food as the enemy, then you need to devour this book. Joy has compiled the total guide to 'eating yourself healthy.' It's no surprise I call her the patron saint of no-nonsense nutrition." —Meredith Vieira, cohost of the Today show

"Joy wants to help you live longer. What better gift could you give the people who love you?" —Ann Curry, news anchor/correspondent, Today and Dateline NBC

"Joy Bauer is the best nutritionist in the world!" —Shaquille O'Neal

"Joy Bauer, a fabulous nutritionist, has produced a great resource for understanding the relation of specific components of a healthy diet to fighting common diseases of our Western civilization—diseases largely caused by our toxic lifestyle." —Arthur Agatston, MD, best-selling author of The South Beach Diet and The South Beach Heart Program

"This is one book that will change your life! Good nutrition is about more than diet and counting calories; it's a lifestyle of healthy choices that could improve your body and help prevent or cure certain ailments. Joy's step-by-step guidelines make for a hard-to-fail program that gives you the most out of what you eat—and yes, may even change your life." —Natalie Morales, cohost of the Today show

"I have nothing but the utmost respect for Joy and her work. For many years she has helped me and my family with dieting and nutrition. She is forever searching for new ways to improve health and wellness. She is a star in my eyes." —Tommy Mottola, music mogul, former chairman Sony Music Entertainment

"When it comes to questions about nutrition, Joy Bauer is your go-to source. She's got all the facts, with great tips for healthy eating and living with a totally sensible, and more importantly, realistic outlook on all of it. In my experience, this is the woman—and now the book—with the answers." —Bobby Flay, chef/owner Mesa Grill, Bolo, Bar Americain, and Bobby Flay Steak, and author of Grilling For Life

"While reading Joy Bauer's Food Cures, I felt like I was visiting with Joy at her office. The book captures her real life persona . . . one of encouragement, humor, resiliency, support, genuine concern . . . and, above all, her ability to present realistic and practical options in achieving your personal goals and objectives!" —Paul Carlucci, publisher, New York Post

"This is an easy-to-read, absolutely comprehensive, medically accurate guide to food as a body fuel. This book is a real contribution to the field--it explains the principles of nutrition and lays out the practices of eating for health and well-being. It is a gem." —Orli R. Etingin, MD, professor of clinical medicine, Weill Cornell Medical College, New York-Presbyterian Hospital

"Joy Bauer has somehow made the impossible, possible. She makes smart eating, weight loss and now, in this book, preventative and curative health a reality. Joy's simple and practical steps are easy to follow, even for those who feel challenged in this area. Our family knows firsthand that success is inevitable when you listen to Joy." —Jessica Seinfeld, author and founder/president, Baby Buggy, Inc.

"Joy has written a superb, readable, and tremendously useful book that distills all her expertise into a volume I will use personally and give to all my patients. It's uniquely valuable." —Marianne J. Legato, MD, founder and director of the Foundation for Gender-Specific Medicine, Inc.; professor of clinical medicine, Columbia University; and adjunct professor of medicine, Johns Hopkins

"Joy brings the same thoroughness and understanding of nutritional needs to this book as she does to our high-performance dancers. Her expertise makes her an integral part of our wellness team at New York City Ballet." —Ken Tabachnick, general manager, New York City Ballet

"Wow! Joy has finally given us what we need. She has written a comprehensive, well-researched, easy-to-use nutritional guide for people who want to protect their vision from cataracts and macular degeneration." —Paul T. Finger, MD, FACS, clinical professor of ophthalmology, New York University School of Medicine, and author of The Macular Degeneration Network

"Joy Bauer has been the 'go-to' nutritionist in New York for many years. This easy-to-read book captures her warmth, her humor, her clinical wisdom, and her vast experience, and gives sensible advice about managing your diet and staying healthy. It is a most-welcome resource!" —B. Timothy Walsh, MD, Ruane Professor of Psychiatry, College of Physicians & Surgeons, Columbia University; director, Eating Disorders Research Unit, New York Psychiatric Institute

"Reading Food Cures is like having an extended session with Joy herself. She offers intelligent, doable, and new solutions to the age-old question: What should I eat? Anyone who has ever held a menu, read a cookbook, or tried a diet will benefit from her wisdom." —Lucy Danziger, editor-in-chief, SELF magazine

"Joy is exactly what you want in a nutritionist: compassionate, insightful, and incredibly knowledgeable about the latest diet research. Her new book, Joy Bauer's Food Cures, is just like having a much-coveted one-on-one session with Joy; and she offers smart, effective and, best of all, easy-to-implement advice for every goal—from weight loss to beautiful skin to improved digestion. This book is a must-read for anyone who wants a step-by-step action plan to better their diet and get results without starving or sacrificing taste, thanks to several delicious recipes." —Caroline Schaefer, deputy editor, Us Weekly

"Joy's book serves up heaping portions of useful nutritional and general health information, coupled with lots of common sense advice and guidance. She spices it up with great anecdotes and recipes, written in a conversation style that makes this book a joy to read. I thought I'd just glance at the Weight Loss and Radiant Skin chapters, but each chapter was filled with so many goodies I could not put it down." —Marsha Gordon, MD, clinical professor, dermatology, Mount Sinai School of Medicine

"Joy Bauer's Food Cures offers a welcome addition to my shelf of trusted books. It is a well researched guidebook for helping select the foods that will make and keep you healthy." —Evelyn Attia, MD, associate director, The Eating Disorders Clinic, New York State Psychiatric Institute, and associate clinical professor of psychiatry, Columbia University College of Physicians & Surgeons

"Whether you are trying to lose weight, manage a chronic medical condition, or just feel better, nutrition expert Joy Bauer has detailed and targeted advice that will help. Grounded in the latest medical science, clearly explained and illustrated, and rounded out with dozens of user-friendly recipes, Joy Bauer's Food Cures is highly recommended not only for clinicians, but also for anyone pursuing a more healthful lifestyle." —Michael J. Devlin, MD, associate professor of clinical psychiatry, Columbia University College of Physicians & Surgeons; and associate director, Eating Disorders Research Unit, New York State Psychiatric Institute

"Joy Bauer's Food Cures is an extraordinary detailing of profoundly easy nutrition programs that yield dramatic results. Joy doesn't just play with generalities, she boldly details the way specific foods relate to specific medical conditions and diseases. Joy Bauer's Food Cures is a fun and easy-to-read book that delivers the critical facts for everyone!" —Carlon M. Colker, MD, FACN, chief executive officer and medical director, Peak Wellness, Inc.

"Joy Bauer's new book is well-written, easily read, and is a great guide for eating properly. Her style and 4-step outlines make it easy for anyone to understand and to follow the programs. It is a great recipe for all of us to learn." —Phillip Bauman, MD, orthopaedic consultant for the New York City Ballet

"In a world crammed with crack-head nutritionists, Joy Bauer is a beacon of sanity. No joke—she saved my life." —Dany Levy, founder and editor-in-chief of DailyCandy

"As Joy says, 'Eating is a piece of cake.' What she fails to mention is that it is only that easy if you have a clear, articulate, authentic, and authoritative guide like Food Cures. Joy makes eating and healthy living carefree and enjoyable. Dig in." —Deanna Brown, general manager, Yahoo Health



"Joy Bauer is an amazing food coach! Food Cures will connect the dots between eating well, feeling healthy, and really enjoying your life." —Vicki Wellington, associate publisher, Domino magazine

"The most comprehensive, easy-to-read book on life-changing nutrition, with the most up-to-date science. An extraordinary book, which will be a must-have for every one of my patients. Joy has changed how I eat, as well as how I treat." —Dr. Lorenzo Gonzalez, MD, faculty at the University of Miami School of Medicine, department of physical therapy

"Fantastic! A comprehensive guide for anyone who wants to live better and feel better. With topics ranging from having beautiful skin and a great smile to handling migraines or celiac disease, it gives realistic advice for everyone. Plus, the recipes and shopping lists remove all guesswork and are simple enough for anyone to follow." —Jeff Wellington, vice president, group publisher, Parenting Magazine

"Never before in history have we humans been able to shape our destiny—for good or for bad—to the degree we can today. With this liberating potential come responsibility and choice, what we do, how we live and, yes, what we eat. Joy Bauer has written a remarkable book. It outlines with clarity and caring professionalism a road map to better health. It is easy to read and amazingly easy to live by—all one needs is a touch of discipline—and that seasoning is under your control." —Maurice Tempelsman, chairman of the board/director at Lazare Kaplan International, Inc.

"It never ceases to amaze me that Joy continues to make it easy and clear for me to understand the world of nutrition. She simply knows how to keep it real." —Laura Geller, renowned makeup artist, working mother, and educator
Rodale Books, 9781594864667, 496pp.
Publication Date: April 3, 2007
About the Author
JOY BAUER, MS, RD, CDN, is the founder of Joy Bauer Nutrition in New York City and can be seen regularly on the Today show as well as other national television programs. Joy is the nutritionist for the New York City Ballet and writes a monthly column for Self magazine. Joy is also the official nutrition/diet and weight-loss expert for Yahoo's millions of readers. She lives in New York City.

Carol Svec is an award-winning health writer and author of four previous books. She lives in North Carolina.
or
Not Currently Available for Direct Purchase