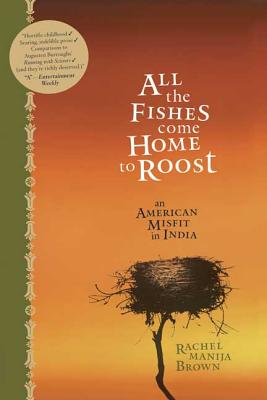 All the Fishes Come Home to Roost (Paperback)
An American Misfit in India
Rodale Books, 9781594865268, 339pp.
Publication Date: October 1, 2006
Other Editions of This Title:
Hardcover (10/7/2005)
* Individual store prices may vary.
Description
When she was seven, Rachel Manija Brown's parents, post-60s hippies, uprooted her from her native California and moved to an ashram in a cobra-ridden, drought-stricken spot in India. Cavorting through these pages are some wonderfully eccentric characters: the ashram head, Meher Baba, best known as the guru to Pete Townshend of The Who; the librarian, who grunts and howls nightly outside Rachel's window; a holy madman, who shuffles about collecting invisible objects; a middle-aged male virgin, who begs Rachel to critique his epic spiritual poems; and a delusional Russian who arrives at the ashram proclaiming he is Meher Baba reincarnated.
Astutely observed and laugh-out-loud funny, All the Fishes Come Home to Roost is an astonishing debut memoir--now available in paperback--and the arrival of a major new literary talent. The hardcover edition was named a Book Sense Pick and was selected as a Book of the Week by BN.com's Book Club.
About the Author
RACHEL MANIJA BROWN, after returning from India, became the youngest person ever to receive an MFA in playwriting from UCLA. She has written for television, worked in TV/film development for the Jim Henson Company, and has won awards for playwriting, comedy writing, and literary criticism. She lives in Los Angeles.
Praise For All the Fishes Come Home to Roost: An American Misfit in India…
"Reads like a novel and lingers in the mind." --Kirkus review

"Like David Sedaris . . . Brown allows the reader to laugh and wince at the same time."--Library Journal review "One of the fall's most promising memoirs" --USA Today

"Horrific childhood: check. Searing, indelible prose: check. Comparisons to Augusten Burroughs' Running with Scissors: check (and they're richly deserved). Grade: A" --Entertainment Weekly
Mani devours books and falls in love with the fantasy genre. How do games, fantasy stories and the characters they contain help shape Mani's identity?
The 1970s in America was a decade during which social conventions were being challenged. Mani's mother and father are part of that counter-culture, yet there are many aspects of life at the ashram that go against freedom. Compare and contrast life in 1970s-era American hippie culture with life in Ahmednagar.
Grandpa Artie was instrumental in cultivating Mani's relationship with nature. However, the community does not always appreciate her love of creatures great and small. Is her compassion toward animals related to her feelings about people?
Which female does Mani identify with most closely? Why?
There are many factors that contribute to Mani's feelings of isolation and confusion. How does Mani's frustration surface? To what effect?
Baba-lovers don't believe that people are responsible for their own actions; rather, everything is part of Baba's plan. Mani blames this belief for her mother's seeming indifference toward the abuse that happens at school, among other things. Do you agree?
Should children in general be encouraged to choose their own religion?
Which revelations from the three Interlude chapters helped your understanding of Mani and her family the most?
Says Baba-lover Carla, "The end of the world means the end of our preconceived notions and mental garbage. It means we face up to who we are and what we've been doing. When Baba breaks his silence, all the fishes will come home to roost." Mani corrects her (chickens roost), then has a cathartic thought: "What would happen if I broke my silence?" Discuss Mani as a truth-seeker. How does she subvert the oppressive culture of Ahmednagar and come to grips with her childhood? How do her powers of logic, self-esteem, imagination, and "real-world" knowledge figure in this process?
Why is the letter Mani receives from Nancy, the English teacher, so important to her? What is its impact on her life?
Rachel Manija Brown treats her childhood with a good deal of humor. Do you sense that her irreverent outlook evolved after she reached adulthood? Is there evidence that suggests this attitude or coping strategy was always present?
Discuss the author's decision to include her parents' opinions about her memoir inside its final chapters.