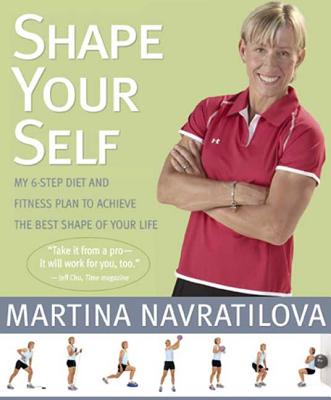 Shape Your Self: My 6-Step Diet and Fitness Plan to Achieve the Best Shape of Your Life (Paperback)
My 6-Step Diet and Fitness Plan to Achieve the Best Shape of Your Life
Rodale Books, 9781594866852, 256pp.
Publication Date: August 21, 2007
* Individual store prices may vary.
or
Not Currently Available for Direct Purchase
Description
Martina Navratilova is a marvel of fitness. She easily outruns many women half her age, still plays tennis competitively, and loves to have fun with other sports like basketball, hockey, skiing, and more. Now you can learn Martina's "secret," a lifestyle plan that's evolved from more than 30 years of trial and error, working with nutritionists, coaches, doctors, kinesiologists, and other top experts. In "Shape Your Self," this amazing athelete shares her own story and distills this wealth of experience into a set of simple strategies, tips, and small changes to achieve the shape of your life. In her 6-step program, you'll discover:
-Ways to apply the focus and mental ability of star athletes to your own personal goals
-Advice on creating an environment - emotionally and physically - that supports you so that you can reach your best
-A healthy food plan with delicious recipes - emphasizing natural foods and energizing juices - that help your body release toxins, drop extra pounds, and feel more vibrant and youthful
-A fitness plan that can be done anywhere, by anyone - from beginners to the most advanced
-Fun, unique, cutting-edge exercises that sculpt visible, fat-burning muscle and make you appreciate the power, strength, and beauty of your body
Learn the strategies that have helped Martina shape her self into the best condition of her life. No matter what your age or your challenge, Martina will help you feel great, and look great, too.
About the Author
MARTINA NAVRATILOVA, with her record nineWimbledon singles titles and 59 Grand Slam titles, is the bestfemale tennis player of the modern era, and possibly the greatestin the history of the sport.
Advertisement