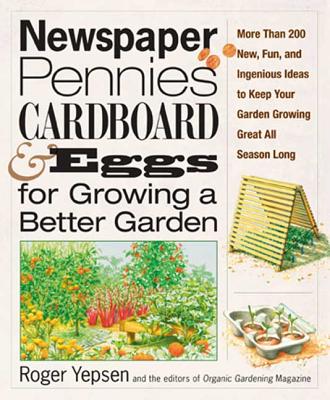 Newspaper, Pennies, Cardboard, and Eggs--For Growing a Better Garden (Paperback)
More Than 400 New, Fun, and Ingenious Ideas to Keep Your Garden Growing Great Al
Rodale Books, 9781594867033, 346pp.
Publication Date: December 26, 2007
Description
Transform a Good Garden into a Great Garden in One Season

What's the secret? It's a mix of ingenuity and efficiency, accented with fun Newspaper, Pennies, Cardboard, and Eggs-For Growing a Better Garden contains more than 400 clever solutions for easing garden troubles, new techniques for turning around an underperforming garden, and innovative ideas that will amaze even long-time gardeners.
If you're looking to add more nutrients to garden soil, whip up a kitchen scrap smoothie and pour the juiced-up liquid right in the planting hole. If you need to chase away bulb-hungry voles, a little sharp-edged driveway gravel around the bulb will do the trick. And if digging potatoes is too tiresome, discover the no-dig, no-shovel method that lets you grow potatoes in a heap of straw mulch.
You'll also discover:
- Intriguing and new plant varieties for sweeter corn, delicate salad greens, and handsome winter squash
- How to fill a shady spot with color, find affordable bulbs, rejuvenate peonies and perennials, and enjoy blossoms even when there's snow
- A creative arsenal for dealing with backyard weeds, including vinegar, hot water, plastic, and flames
- Ways to turn inexpensive items from the garden, closet, and pantry into indispensable yard and garden helpers
Filled with usable, earth-conscious, and creative ideas and tips, this lively book will help you discover how to work smarter-not harder-to cultivate a better garden, year after year. Let a few of these suggestions and projects take root, and you'll have the better-looking, more productive, and more rewarding garden in just one year.
About the Author
ROGER YEPSEN has written and illustrated many books on gardening, home hints, and health, and won an American Horticultural Society Book Award for his work. He is the author of Apples; Berries; and A Celebration of Heirloom Vegetables, three books that reflect his passion for heirloom crops.
Advertisement