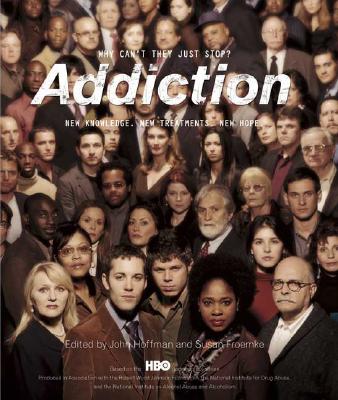 Addiction: Why Can't They Just Stop? (Hardcover)
Why Can't They Just Stop?
Rodale Books, 9781594867156, 256pp.
Publication Date: March 6, 2007
* Individual store prices may vary.
or
Not Currently Available for Direct Purchase
Description
This companion book to the HBO documentary of the same name sheds light on the hidden American epidemic of addiction. Blending compelling personal narratives with statistics and expert opinion, all gleaned from over two years of research and reporting, ADDICTION offers a comprehensive and provocative look at the impact of chemical dependency on addicts, their loved ones, society, and the economy. Breaking the stigma that addicts are simply weak and immoral, it delves into new brain research proving that drugs and alcohol change the chemical composition of addicts' brains, making it veritably impossible for them to quit. The nation's top experts persuasively argue that the time has come for the blame to stop and the healing to begin.
ADDICTION also features material not included in the documentary: testimonials, original graphics and images, additional elaboration on theories and treatments of addiction, and more. Featuring a foreword by Sheila Nevins, the president of Documentary and Family Programming at HBO, an afterward by the best-selling author Susan Cheever, and the writing of David Sheff, this book is essential reading for anyone who has been impacted by what is now realized to be a very real and widespread disease.
About the Author
John Hoffman--Vice President of HBO Original Programming, has spent the past eleven years creating, producing, and supervising documentary programming for HBO, including the ADDICTION project, Hacking Democracy, the Emmy-nominated Last Letters Home: Voices of American Troops from the Battlefields of Iraq, and In Memoriam, New York City, 9/11/01. Before coming to HBO, Hoffman produced and created the children's television series Allegra's Window and served as executive director of AIDSFILMS, where he produced six multi-award-winning films, including AIDS: Changing the Rules.Susan Froemke has more than twenty-seven nonfiction films to her credit, including the 1976 classic Grey Gardens and the 2001 Academy Award-nominated Lalee's Kin, an HBO film that was also honored at the Sundance Film Festival. A four-time Emmy Award winner, Froemke won a 2001 Grammy for her work as director and producer of Recording the Producers: A Musical Romp with Mel Brooks. Before starting her own company in 2003, Froemke was the principal filmmaker at Maysles Films, Inc.Susan Cheever is the bestselling author of twelve books, including five novels, the memoirs Note Found in a Bottle and Home Before Dark, My Name is Bill, a biography of Bill Wilson, the co-founder of Alcoholics Anonymous, and most recently, American Bloomsbury. She is a director of the Corporation of Yaddo, a member of the Authors Guild Council, and teaches in the Bennington College MFA program and at the New School.Sheila Nevins, president of HBO Documentary Films, is responsible for overseeing the development and production of all documentaries and family programming for HBO, Cinemax, and their multiplex channels. During her tenure at HBO, she has received seventeen Primetime Emmy Awards, twenty-four News and Documentary Emmys, and twenty-five Peabody Awards. Nevins has also been honored with a Personal Peabody in 2001 and an Emmy Lifetime Achievement Award in 2005 for her contributions to the art of the documentary.
Advertisement