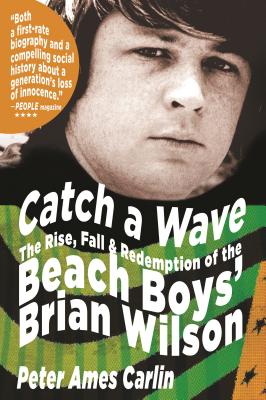 Catch a Wave (Paperback)
The Rise, Fall, and Redemption of the Beach Boys' Brian Wilson
Rodale Books, 9781594867491, 352pp.
Publication Date: June 26, 2007
Other Editions of This Title:
Hardcover (7/25/2006)
MP3 CD (6/7/2016)
* Individual store prices may vary.
Description
Now the subject of the movie Love & Mercy, starring John Cusack! Brian, Carl, and Dennis Wilson, along with Mike Love and Al Jardine - better known as the Beach Boys, rocketed out of a working-class Los Angeles suburb in the early sixties, and their sun-and-surf sound captured the imagination of kids across the world. In a few short years, they rode the wave all the way to the top, standing with the Beatles as one of the world's biggest bands. Despite their utopian visions, infectious hooks, and stunning harmonies, the Beach Boys were beset by drug abuse, jealousy, and terrifying mental illness. In "Catch a Wave", Peter Ames Carlin pulls back the curtain on Brian Wilson, one of popular music's most revered luminaries, as well as its biggest mystery. Drawing on hundreds of interviews and never-before heard studio recordings, Carlin follows the Beach Boys from their earliest days through Brian's deepening emotional problems to his triumphant re-emergence with the release of Smile, the legendarily unreleased album he had originally shelved.
About the Author
PETER AMES CARLIN's award-winning reportage on Brian Wilson and the Beach Boys has appeared in the New York Times, People, American Heritage, and the Portland Oregonian, where he is currently the newspaper's television critic. Previously he was a senior writer for People in New York.
Praise For Catch a Wave: The Rise, Fall, and Redemption of the Beach Boys' Brian Wilson…
"The Beach Boys in Peter Arnes Carlin's Catch a Wave: The Rise, Fall and Redemption of Brian Wilson (Rodale Press): Great evocations of a great musician and the pop group he built, via great prose: ''As in our fantasies of America, what matters about a person in a Beach Boys song has nothing to do with who he or she is, and everything to do with the strength of their ambition and the things he or she chooses to do with it. This same message plays out across all cultural and racial lines in 'Surfin USA,' and it's just as vivid in 'The Girls on the Beach,' where, as they repeat in the chorus, the young lovelies are 'all within reach.' That promise" extended in the warm, jazzy harmonies Brian cribbed from the Four Freshmen, who found them in the big band arrangements of Stan Kenton and Duke Ellington had as much to do with social opportunity as sex." —Entertainment Weekly

"Fans will be picking up excitations aplenty from Catch a Wave, this absorbing treatment of Brian Wilson. The Beach Boys' auteur couldn't live with authority figures or without 'em" his abusive dad/manager, his hit-crazed brothers and cousins, or his controlling therapist. ''If he'd used his music to escape his father,'' Peter Ames Carlin writes, success ''transformed everyone around him into a legion of Murrys... [all reiterating] his father's insults. Nobody wants to hear this crap! Dust yourself off and write another hit!'' Ultimately, the exhumed SMiLE was a hit" almost 40 years later" though bandmate Mike Love would still rather get litigious than lavish praise on pop's patron saint of lost boys. Grade: A" —Entertainment Weekly