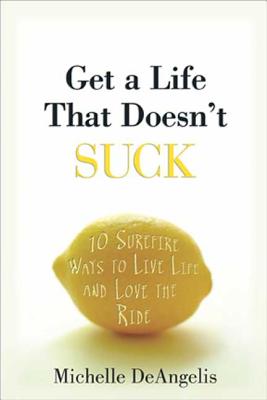 Get a Life That Doesn't Suck (Hardcover)
10 Surefire Ways to Live Life and Love the Ride
Rodale Books, 9781594867989, 288pp.
Publication Date: September 2, 2008
* Individual store prices may vary.
Description
Life can really suck. But it doesn't have to. With the help of esteemed consultant and coach Michelle DeAngelis, life can really rock. DeAngelis serves up a combination of street-smart wisdom and cheerful irreverence as she shows readers how to enjoy the "ride of their lives," regardless of the roadblocks or potholes along the way. By providing the specific mechanics to joy, DeAngelis shows that joy is a repeatable by-product of living one's life in integrity and of making conscious choices every day that kick misery, worry, and guilt to the curb. She explains how most people are not naturally equipped to deal with life's challenges and then introduces foundational tools and effective techniques to take readers from crappy to happy.
She starts with a Joy Quotient Quiz that gives readers their "JQ" score and identifies their "Gap"--the measurable difference between what people think and what they do--which is where life sucks. She then teaches a four-step, fast-acting process that provides "suck relief" to solve everyday problems. The centerpiece of the work is DeAngelis's 10 Life-Changing Ahas.
From the title to the very last line, Get a Life That Doesn't Suck is not your everyday self-help book. Through humor and real-life examples, DeAngelis explains how readers can reduce their stress, improve their outlook, and get rid of whatever is holding them back. She provides the formula for readers to make joy real and accessible so that the journey from "life sucks" to "life rocks" is worth the trip.
About the Author
MICHELLE DEANGELIS is founder and president of Michelle Inc., a management consulting firm in its fourteenth year serving Fortune 500 companies, and Planet Joyride, a company dedicated to showing people how to create lives that fuse joy and purpose. A sought-after consultant, speaker, and executive coach, Michelle shows CEOs, midlevel managers, and individuals everywhere how to have a company, and a life, that "Doesn't Suck." DeAngelis and her work have been featured in Self, Redbook and More.