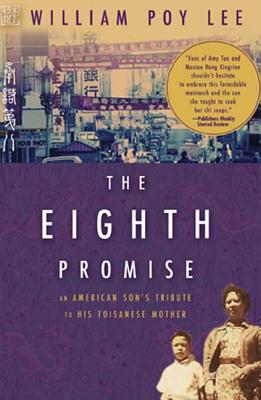 The Eighth Promise (Paperback)
An American Son's Tribute to His Toisanese Mother
Rodale Books, 9781594868115, 315pp.
Publication Date: November 27, 2007
Other Editions of This Title:
Hardcover (2/6/2007)
* Individual store prices may vary.
Description
William Poy Lee received his bachelor's of architecture from the University of California, Berkeley, and his Juris Doctor from Hastings College of Law, University of California, San Francisco. A lawyer since 1979, he lives in Berkeley, where he writes full-time. In "The Eighth Promise," author William Poy Lee gives us a memoir of a relationship between a mother and son--and of the Chinese American immigrant experience. His stories unfold simultaneously in the ancient Chinese farming village of his mother's childhood during World War II while under attack by the Japanese Imperial Army, and in America in the housing projects of San Francisco's Chinatown during the civil rights era, Vietnam War, and the countercultural 1960s and 1970s of William's coming-of-age. The author's mother, Poy Jen, makes her mother eight promises before she leaves China, perhaps forever, to join her husband in America. The eighth is the most sacred. "The Eighth Promise" recounts how Poy Jen keeps this promise and instills the sense of its importance into her son's very soul. He writes, "It is the Eighth Promise--to live with compassion toward all--that I think of as the ever-living promise, the one for all of one's days. And this promise, this way--perhaps arising to the level of a moral path--strikes me as the distillation of all the wisdom of my kin." Born in the heart of San Francisco's Chinatown, William begins his life with fractured identities--on the one hand, he is American and has never seen China, and on the other hand, many Americans consider him an outsider. Only through living by his mother's words, uttered years ago in an ancient Chinese farming village, is he able to achieve a sense of balance and survive the Jim Crow segregation rampant in the San Francisco of his youth. When violence erupts in Chinatown in a series of slayings and William's brother is wrongfully convicted of murder, William must remember the Eighth Promise in order to do what is right. Told in two voices--the author's and that of his mother--this book is a tale of violence, fortitude, survival, and triumph. "Whatever our level of familiarity with the main ingredients of this story, it nevertheless continues to exert a powerful allure. After reading William Poy Lee's "The Eighth Promise," we are reminded why: Each family has its own emotional landscapes, its own idiosyncrasies and neuroses. In the end, it is observing the way particular families respond to stress that makes such narratives so compelling."--"San Francisco Chronicle" ""The Eighth Promise "is a lively read and a significant contribution to the body of literature that continues to bubble up from the steaming cauldron that is the American immigrant experience."--"Salon" ""The Eighth Promise" is the rare book that tells a story we have not heard before, yet poses questions that are eternal. Who are we, having left the land of our ancestors and settled among others similarly displaced? How do we find 'home' in the present when the past meant a thousand years in the same place? How do we honor parents--particularly our mothers--whose lives were the bridge that brought us safely to a more promising land? In this unusual, wise, insightful and healing memoir, William Lee Poy explores territory that reflects and intrigues us all."--Alice Walker "One of the very few books that completely conveys a life as lived from the inside and makes us as readers feel we are living it too."--Gloria Steinem "At once a family story, a political tale, a crucial piece of American history, a drama of betrayal and ultimate survival, "The Eighth Promise" promises to be a book that will be read by generations of readers."--Kim Chernin, author of "In My Mother's House" "In this remarkable memoir, mother and son, in alternating chapters, tell the story of their life in San Francisco's Chinatown from the 1950s to the present . . . Fans of Amy Tan and Maxine Hong Kingston shouldn't hesitate to embrace this formidable matriarch and the son she taught to cook her chi soups."--"Publisher's Weekly" (starred review)
Did you agree with the author's choice to alternate chapters between his mother's voice and his own? Or was it confusing?
Were the two voices clearly differentiable?
Did you notice the shift as the narrative continued, the Mother's voice starting to shift more into observer and commentator rather than as the main character and as a teacher? In contrast, the author grows more-and-more into his own voice as his own story comes into the foreground?
Did the shift work as a writing device?
The author recorded over thirty hours of interviews with his mother — all in original Toisanese dialect. It's one skill to translate words, but what do you think are the writing challenges involved in conveying the personality, the speaking cadences, and the cultural reference points of Toisanese into American?
What is the connection between old-world ancestry and being an American?
What do we gain if we explore the connection? What do we lose, if anything, if we don't?
Is being American merely a matter of gaining citizenship, or do you truly become one only after several generations of your family living here? Are you less an American if you reconnect with your old-world ancestry – or are you in some way, more of one? Are you less patriotic?
In a globalizing age, how does knowing one's own ancestry, or retaining or relearning the language of your parents or grandparents, help you? How might it hinder you?
What did you learn about pregnancy and childbirth that is different from American conventional wisdom?
Do you think there is merit in the approach to soups and food, i.e., to enhance the chi body and inner fires of each family member? Or is this an old wives' tale?
Can the Clan system of family take firmer root in America? Would it be a better familial model than the nuclear family model? Or is it unrealistic given the pace of our lives and the demands of our careers?
In the face of official wrongdoing, corruption, or organized crime in your community, when is it right to take a personal stand? When might it be foolish to take a stand? Or to continue a stand?
Is a personal stand ever worth risking the possibility of death for?
Is parental influence more powerful when it is unspoken and subtle or when it is overtly imposed by rules, rewards and punishments, and verbal repetition?
Which parent has had the deeper influence on your character, life outlook, and values? What makes you say that? And in what ways? How did that parent influence you?
Would you like to interview your mother? Or father? If your mother consented to be interviewed, what would you like to know?
How would you ask her about sensitive areas without her withdrawing into silence or vagaries?
What is the purpose of higher education? To gain skills to earn the best living possible? To gain a better understanding of our society, the world, of culture and arts, and of political and economic systems? To understand yourself better psychologically and emotionally so you can function better in life in love, community, and work? To improve yourself — morally, spiritually, and/or religiously?
or
Not Currently Available for Direct Purchase