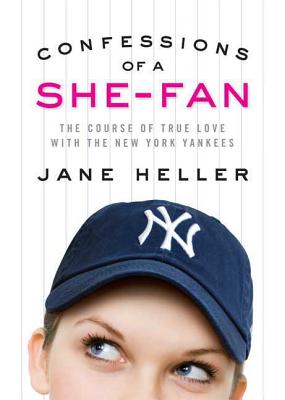 Confessions of a She-Fan
The Course of True Love with the New York Yankees
Hardcover

* Individual store prices may vary.
Other Editions of This Title:
Paperback (9/1/2013)
Description
Two months into the 2007 baseball season, novelist Jane Heller, an obsessed Yankee fan heartsick over their poor play, announced her intention to divorce the team, on grounds of mental cruelty, in the pages of the New York Times. Her words inflamed the passions of sports lovers across the country, and her piece quickly became the newspaper's most e-mailed and talked-about article in the week it ran.
The intense reaction of fans forced Heller to look inward, and to re-examine her feelings about winning and losing. Was she a "bandwagon" fan, as some branded her? A traitor? Confessions of a She-Fan is a witty, observant, and decidedly female look at the nature of the bond between fan and team. Jane Heller goes in search of answers. With her husband as her traveling partner, she literally follows the Bronx Bombers through the rest of their challenging 2007 season, hoping to score interviews with the players, watch every game in every city, and inject some excitement into her marriage.
Through interactions with other fans, as well as members of the media covering the Yankees, plus game-by-game analyses, Heller learns personal life lessons about competition, loyalty, and acceptance—and about why baseball, like any truly romantic relationship, requires commitment, patience, and a deep, abiding love.
Praise For Confessions of a She-Fan: The Course of True Love with the New York Yankees…
"This is a Donna Quixote story about a cynical Yankee fan who spends a season traveling the country going to ball games and who in the end regains the joy, the magic, and the faith in her beloved team. Along the way, Yankee fans will fall in love with 'the Yankees' number one fan,' Jane Heller." —Peter Golenbock, author of the New York Times bestsellers Dynasty and The Bronx Zoo

"A book for those of us men who thought women didn't get sports.... A delightful, insightful ride on the Yankee Clipper. " —James Burrows, Emmy Award–winning director of Cheers and Will & Grace

"Jane Heller knocks it out of the park with Confessions of a She-Fan. In 1978, I discovered the Yankees (mostly I discovered Ron Guidry). I was hooked and have been ever since. My 1-year-old daughter is already in pinstriped onesies. I can understand perfectly the passion of a fellow 'she-fan.' " —Kit Golden, producer of the Academy Award–nominated Chocolat

"Confessions of a She-Fan is a love story about baseball and a baseball story about love--one of the most unusual and delightful books about a true fan's connection to the game I've ever read. It's impossible to read without smiling out loud!" —David Fisher, coauthor with Terry Bradshaw of the New York Times bestseller It's Only a Game

"Confessions of a She-Fan is stream-of-consciousness from someone who's both a passionate Yankee fan and a terrific writer. It's laugh-out-loud funny and it also moves you to tears." —John Sterling

"Forget A-Rod. The one really suffering a "Single White Female" obsession with the Yankees is chick-lit author Jane Heller. She was so distraught with the losing ways of the 2007 Bombers, she vowed to "divorce the team on grounds of mental cruelty." Instead, she wound up following the Yanks on the road, husband by her side, trying to get insight into her fandom and fans in general. Now, as Heller finds herself competing on the bookshelves with her team's ex-manager, she gives us a couple of reasons why fans should select her book over his: 'I didn't hire someone to write my book for me' and 'Torre's book is deadly serious. Mine has jokes. In this economy, we fans need a laugh." —Billy Heller, New York Post
Rodale Books, 9781594868986, 272pp.
Publication Date: February 3, 2009
About the Author
JANE HELLER, after nearly a decade of promoting writers, launched her own career as a successful novelist. Her comic, breezy tales are now entertaining millions of readers around the world. She is the best-selling author of 13 books including An Ex to Grind, Name Dropping, Female Intelligence, Princess Charming, and Lucky Stars. She lives in Santa Barbara, California.
or
Not Currently Available for Direct Purchase