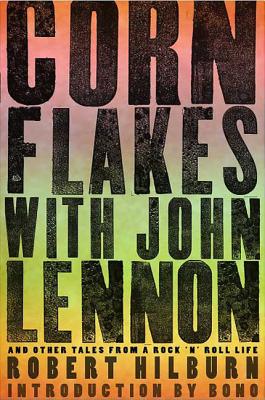 Corn Flakes with John Lennon
And Other Tales from a Rock 'n' Roll Life
Hardcover

* Individual store prices may vary.
Other Editions of This Title:
Paperback (10/12/2010)
Description
Robert Hilburn's storied career as a rock critic has allowed him a behind-the-scenes look at the lives of some of the most iconic figures of our time. He was the only music critic to visit Folsom Prison with Johnny Cash. He met John Lennon during his lost weekend period in Los Angeles and they became friends. Bob Dylan granted him his only interviews during his "born-again" period and the occasion of his 50th birthday. Michael Jackson invited Hilburn to watch cartoons with him in his bedroom. When Springsteen took to playing only old hits, Hilburn scolded him for turning his legendary concerts into oldies revues, and Springsteen changed his set list.

In this totally unique account of the symbiotic relationship between critic and musical artist, Hilburn reflects on the ways in which he has changed and been changed by the subjects he's covered; Bono weighs in with an introduction about how Hilburn's criticism influenced and altered his own development as a musician.

Corn Flakes with John Lennon is more than about one man's adventures in rock and roll: It's the gripping and untold story of how popular music reshapes the way we think about the world and helps to define the modern American character.
Praise For Corn Flakes with John Lennon: And Other Tales from a Rock 'n' Roll Life…
"[Hilburn] was always looking for subject matter that was fresh and patiently observed, what Van Morrison described as 'the inarticulate speech of the heart.' U2 was shambolic and erratic, but he seemed to see the 'what might be' in the 'what was.' Bob's role as a critic was to encourage the suspension of disbelief not just in the audience, but in the artist as well. That is an environment in which music grows. He made us better." —Bono, from the introduction

"So many great memories came flooding back to me when I read Corn Flakes With John Lennon. A must read for genuine music lovers." —Elton John

"It's impossible to read this book and not encounter passages that surprise, sadden and hearten. It's also impossible to read Corn Flakes With John Lennon and not recognize Robert Hilburn as the greatest interviewer in rock & roll history." —Mikal Gilmore, author of Shot in the Heart and Night Beat: A Shadow History of Rock and Roll

"Hilburn's amazing resilience and commitment for music shines through his decades of reportage and reviews of music. On behalf of the musicians of the 60's on, I thank you for having been the communicator of our music with love. " —yoko ono summer of 2009

"Beautifully written, and passionately told, this book captures the very essence of what it means to be someone who loves music." —Charles R. Cross, author of Heavier Than Heaven and Room Full of Mirrors

"I never gave a damn for rock criticism until I read Robert Hilburn" —Bernie Taupin
Rodale Books, 9781594869211, 288pp.
Publication Date: October 13, 2009
About the Author
ROBERT HILBURN, the long-time pop music critic and editor of the Los Angeles Times, is one of the most widely read and respected pop writers of the rock and roll era. His reviews and artist profiles have appeared in hundreds of publications around the world. Hilburn is a member of the Rock and Roll Hall of Fame nomination committee. He lives in Los Angeles
or
Not Currently Available for Direct Purchase