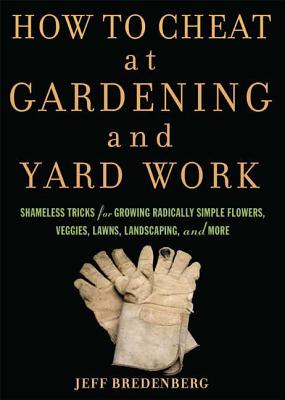 How to Cheat at Gardening and Yard Work: Shameless Tricks for Growing Radically Simple Flowers, Veggies, Lawns, Landscaping, and More (Paperback)
Shameless Tricks for Growing Radically Simple Flowers, Veggies, Lawns, Landscaping, and More
Rodale Books, 9781594869594, 371pp.
Publication Date: April 14, 2009
* Individual store prices may vary.
or
Not Currently Available for Direct Purchase
Description
Do you love the look of a stunning flowerbed or a nice expanse of lawn bordered by attractive shrubs, but don't have time to spend the whole weekend in your backyard? It's time to cheat in a smart way. In "How to Cheat at Gardening and Yard Work" by Jeff Bredenberg," " you'll find hundreds of work-reducing, time-saving, cost-cutting gardening tips that will reward you with the best-looking yard and garden you've ever had with less work than ever before.
Cheating on garden and yard tasks is part attitude adjustment, part shortcuts, and part simplicity with a healthy dose of making clever choices. You'll discover effective and efficient methods to complete just about every garden project, chore, cleanup, or predicament you'll face.
Set aside the things you've done for years and discover:
-How the right tool can save you time and save your back
-That doing less for your lawn actually means better results
-Why planting a diversion crop cuts down on your pest-patrol efforts
That groundcovers and foliage plants are no-hassle solutions for weedy flowerbeds.
About the Author
Jeff Bredenberg has authored, coauthored, and edited more than 20 titles, and he frequently shares his how-to tips in TV and radio appearances and newspaper and magazine articles. He's written three other books in the How to Cheat series and empowers homeowners to get things done faster, better, and cheaper.
Advertisement