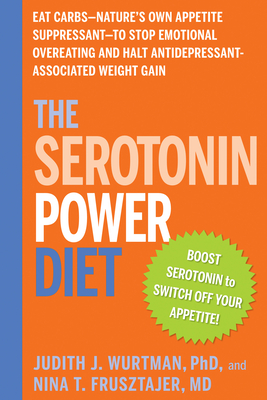 The Serotonin Power Diet (Paperback)
Eat Carbs--Nature's Own Appetite Suppressant--to Stop Emotional Overeating and Halt Antidepressant-Associated Weight Gain
Rodale Books, 9781594869723, 304pp.
Publication Date: December 22, 2009
* Individual store prices may vary.
Description
Putting more than 30 years of groundbreaking research to work, renowned scientist Judith Wurtman, PhD, and her colleague, Nina T. Frusztajer, MD, present a clinically proven 12-week program that uses the power of carbohydrates to help you to:

- Activate the appetite-suppressant function of serotonin to stop weight gain
- Regain control over emotional overeating and cravings
- Lose up to 2 pounds of real weight-not water-per week
- Maintain a healthy lifestyle

The Serotonin Power Diet is the only weight loss plan that will help you lose weight while being treated with the antidepressants and related medications that provoke overeating.

Easy and economical, with more than 75 delicious recipes, The Serotonin Power Diet is the natural solution to weight loss and maintenance for everyone who has ever thought their cravings could never be satisfied.
About the Author
Judith J. Wurtman, PhD, discovered the connection between carbohydrate craving, serotonin, and emotional well-being in her MIT clinical studies. Founder of a Harvard University hospital weight-loss facility and cofounder of Adara Weight Management Center, she has written five books, including The Serotonin Solution, and more than 40 peer-reviewed articles for professional publications. She lives in Miami Beach, Florida.

Nina T. Frusztajer, MD, cofounder of Adara Weight Management Services, is a practicing physician and certified professional life coach. She received her Masters degree in Nutrition from Columbia University and her medical degree from George Washington University. She lives in Boston, MA.