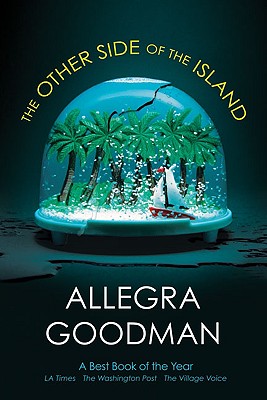 The Other Side of the Island
Paperback

* Individual store prices may vary.
Description
A gripping and beautifully written dystopian page-turner from New York Times bestselling author and National Book Award finalist ALLEGRA GOODMAN.

In the eighteenth glorious year of Enclosure, long after The Flood, a young girl named Honor moves with her parents to Island 365 in the Tranquil Sea. Life on the tropical island is peaceful—there is no sadness and no visible violence in this world. Earth Mother and her Corporation have created New Weather. The sky is always blue and it almost never rains. Every family fits into its rightful, orderly, and predictable place…
 
Except Honor's. Her family does not follow the rules. They ignore curfew, sing songs, and do not pray to Earth Mother.  Honor doesn't fit in with the other children at the Old Colony School. Then she meets Helix, a boy with a big heart who slowly helps her uncover a terrible secret about the Island:  Sooner or later, those who do not fit disappear, and they don't ever come back. 
 
Honor knows her family could be next, and when the unthinkable happens, she must make the dangerous journey to the Other Side of the Island—before Earth Mother comes for her too…
Praise For The Other Side of the Island…
*A Los Angeles Times Best Book of 2008*
*A Washington Post Best Book of 2008*
*A Village Voice Best Book of 2008*

"This beautifully written novel is a dystopian page-turner, using well-worn tropes to confront adult issues such as authoritarian government and global warming." — Washington Post

"Allegra Goodman develops her world with deft strokes, bringing together the linguistic traditions of the dystopian novel with those of classic post-disaster stories…" — New York Times Book Review

"A dark vision rendered in wonderful and imaginative detail, The Other Side of the Island is a cautionary tale that will likely be embraced by left-leaning, politically aware and environmentally conscious teens and adults alike, regardless of whether or not they read sci-fi." — Los Angeles Times

"From Kaaterskill Falls to Intuition, Goodman's fiction proves that she can tackle big subjects with unobtrusively graceful and perceptive prose. Her first YA offering, a dystopian eco-fantasy in which a malevolent Corporation lulls North America's few remaining inhabitants into complacency with memory altering substances, misinformation, fake skies and a leader named Earth Mother, is a top-notch genre piece…" —Publishers Weekly, Starred Review

"Gripping and creepily prescient." —Village Voice
Razorbill, 9781595141965, 288pp.
Publication Date: May 14, 2009
About the Author
Allegra Goodman is a National Book Award Finalist and the author of Intuition, a New York Times Bestseller and Notable Book of 2006. She lives in Cambridge, Massachusetts.
or
Not Currently Available for Direct Purchase