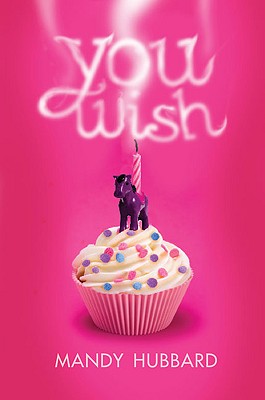 You Wish (Paperback)
Razorbill, 9781595142924, 304pp.
Publication Date: August 5, 2010
* Individual store prices may vary.
Description
Kayla McHenry?s sweet sixteen sucks! Her dad left, her grades dropped, and her BFF is dating the boy Kayla?s secretly loved for years. Blowing out her candles, Kayla thinks:
I wish my birthday wishes actually came true. Because they never freakin? do.
Kayla wakes the next day to a life-sized, bright pink My Little Pony outside her window. Then a year?s supply of gumballs arrives. A boy named Ken with a disturbing resemblance to the doll of the same name stalks her. As the ghosts of Kayla?s wishes-past appear, they take her on a wild ride . . . but they MUST STOP. Because when she was fifteen? She wished Ben Mackenzie would kiss her. And Ben is her best friend?s boyfriend.


About the Author
Mandy Hubbard is the author of Prada & Prejudice. A cowgirl at heart, she likes riding horses and four-wheelers and singing horribly to the latest country tune. She lives in Enumclaw, Washington.
or
Not Currently Available for Direct Purchase