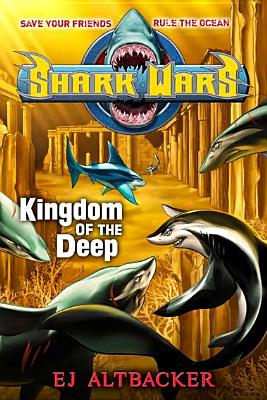 Shark Wars #4 (Hardcover)
Kingdom of the Deep
Razorbill, 9781595145093, 240pp.
Publication Date: July 10, 2012
* Individual store prices may vary.
Description
Shark Wars grows more epic--and addictive--with every book, publishing each season!

Peace has finally come to the Big Blue and with it a revelation: Gray is not the last megalodon in the ocean after all. Gray swims deeper into the mystery of his family heritage, uncovering the myth of the megalodons and a legend that goes back to prehistoric times. But when the scheming mako Velenka breaks free from her underwater prison, the peace Gray and Barkley have fought so hard to win is threatened.

Shark Wars is Star Wars set underwater--it's a modern-day Warriors for today's hungry readers!
About the Author
EJ Altbacker is a screenwriter whose credits include work on various television programs including Green Lantern and Spider-Man. He holds an MFA in screenwriting from the American Film Institute and an undergraduate degree in marketing from the University of Notre Dame. He is also the author of Shark Wars, Shark Wars #2: The Battle of Riptide, and Shark Wars #3: Into the Abyss.