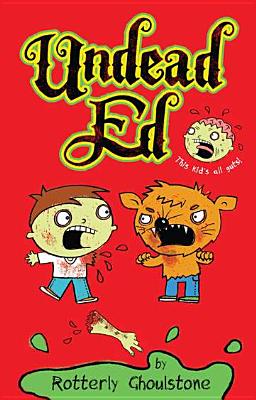 Undead Ed (Hardcover)
Razorbill, 9781595145314, 206pp.
Publication Date: August 16, 2012
* Individual store prices may vary.
Description
When Ed Bagley wakes up in a yucky sewer --and discovers he's a zombie-- things can't get any weirder That is, until his evil arm scurries off his shoulder and into the town of Mortlake to cause all sorts of trouble.
Un-armed and dangerous, Ed teams up with his werewolf buddy Max Moon to track down his rogue limb and save Mortlake from the evil at the center of it all.
This formerly unlucky kid is out to prove he really is all guts But when he's faced with gross ghouls, wormy wraiths, freaky fat babies, and some seriously sinister clowns, will Ed and his undead friends have enough skin on their bones to save the day? Or will this arm-y prove too tough to hand-le?
Hilariously illustrated zombie antics make this the perfect next book for fans of Zombiekins
About the Author
Rotterly Ghoulstone wrote Undead Ed to work off a terrible curse inherited from his great-grandfather. Before creating the series, he'd fallen down the stairs, been hit by a flying tennis racket, nearly drowned in a swamp, crashed his bike into the side of the family greenhouse, and almost choked to death on an oyster in a fancy restaurant. He doesn't know what will happen to him if he ever stops writing about Undead Ed . . . but he has a feeling it's bound to be something bad. Nigel Baines is just trying to stay out of the way of Rotterly Ghoulstone's family curse. He lives in London, England.
or
Not Currently Available for Direct Purchase